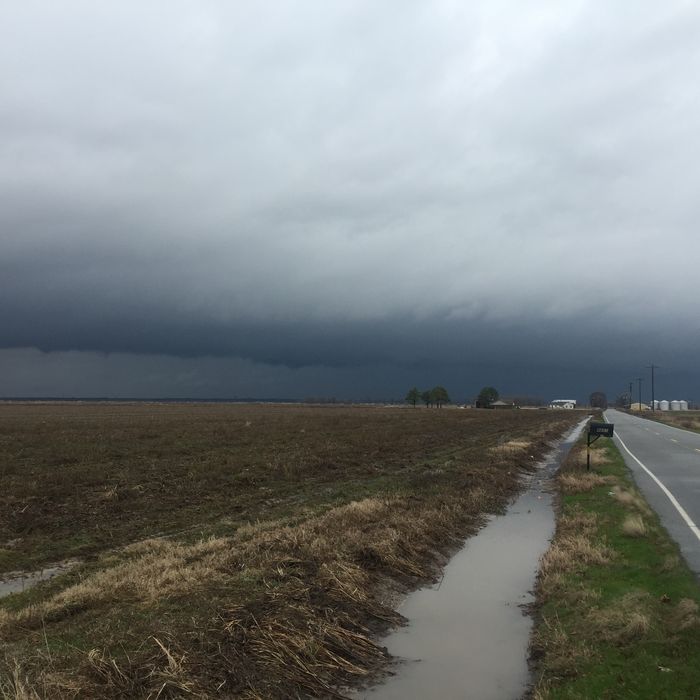 A supercell thunderstorm moves across Arkansas near Harrisburg.
Photo: Jazz Bishop/© Corbis. All Rights Reserved.
At least 15 people were killed and dozens were injured on Wednesday, as a powerful storm system swept across the South. According to the Weather Channel more than 20 tornadoes were reported, with Mississippi experiencing the worst of them. Most of the damage was caused by a single twister that may have been on the ground for 150 miles, moving from northern Mississippi to western Tennessee. "If it is continuous it would be the longest track [December] tornado on record here in the Mid-South," said the National Weather Service's Memphis office.
In Mississippi, 3 people died and at least 40 were injured as 14 tornadoes touched down in the state. The victims include a 7-year-old boy, who was in a car with relatives when the vehicle was picked up by the storm in Holly Springs. A man and a woman were killed in Tennessee, and in Atkins, Arkansas, a tree blew onto a house, killing an 18-year-old woman who was sleeping in her bedroom. Her 1-year-old sister was trapped in the house, but rescuers managed to pull her from the debris.
The national Storm Prediction Center in Oklahoma issued a "particularly dangerous situation" warning for the first time since June 2014 on Wednesday, and across the region many homes and businesses were destroyed and thousands were left without power. "The system had this signature appearance that you see in the transition seasons," said Greg Carbin, the center's warning-coordination meteorologist. "What this system had was copious amounts of moisture and warm air across the Deep South, the Mississippi Valley. But at the same time, the upper levels of the atmosphere were more characteristic of winter."
The threat of extreme weather is expected to taper off on Thursday, but the South could see a new round of powerful storms this weekend.