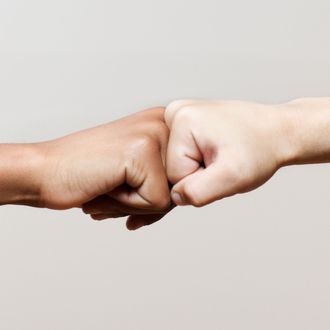 Photo: JLP/Sylvia Torres/Corbis
A town in Westchester County will pay a man $40,000 after he was allegedly arrested for giving a friend a fist-bump in 2010. Forty-nine-year-old Basil Johnson was detained for marijuana possession — police reportedly read "fist-bump" as "drug deal" — and later found not guilty. Johnson, who had been arrested a few times before for petty crimes, according to the Journal News, filed a civil-rights lawsuit two years later, which led to the settlement finalized on Tuesday. 
Hillary Clinton, Bernie Sanders, Ted Cruz, Lindsey Graham, Donald Trump, Jeb Bush, and Scott Walker are among the many Americans who have managed to give people fist-bumps while escaping legal repercussions.