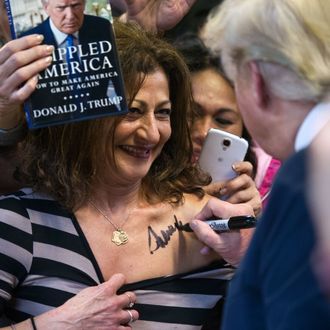 The more Donald Trump outrages respectable opinion, the better he seems to do with likely GOP primary voters.
Photo: Cliff Owen/AP/Corbis
Until now, all of this week's Republican presidential polling was taken fully or partially before Donald Trump's shocking and intensely covered proposal to suspend entry of Muslims into the country. There's been scattered separate polling of how Republicans thought about the proposal, but the results of those have diverged. 
Now a one-day December 10 Landmark/Rosetta Stone survey of Georgia for Atlanta's WSB-TV has come out, and it shows Trump within striking distance of an actual majority of the GOP vote. Here's a quick analysis from The Hill's Bradford Richardson:
Republican presidential front-runner Donald Trump is the overwhelming leader in the Georgia primary, according to a poll released Friday… [which] shows the real estate mogul with 43.1 percent support in the Peach State, distantly followed by Sen. Ted Cruz (R-Texas), with 16.2 percent….

The poll surveyed 800 likely Republican primary voters in Georgia on Dec. 10. The margin of error is 3.3 percent.
The last poll of Georgia from this firm was in September — you know, when everyone figured Trump's summer-distraction numbers were about to collapse — and it gave Trump just under 31 percent. 
So this one makes you wonder what Trump could say or do to put him over the top into a majority in Georgia and similar states (most of which hold their primaries relatively early in the process)? 
I'm not sure I want to know.