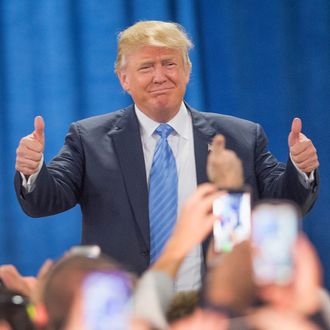 Donald Trump is undoubtedly enjoying his leverage over fellow Republicans who loathe and fear him.
Photo: Scott Olson/Getty Images
Playing his usual role as fearless gadfly, Senator Lindsey Graham was the most outspoken critic of Donald Trump's proposal that the U.S. temporarily bar the entry of all Muslims, including U.S. citizens returning from abroad. 
>
"Trump's a race-baiting, xenophobic, religious bigot," Graham said on CNN. "He doesn't represent my party. He doesn't represent the values that the men and women who wear the uniform are fighting for."
Asked if he would renege on his earlier pledge to support the Republican nominee even if his name is Donald Trump, Graham would not comment. 
He knows — and I'm guessing he's been reminded repeatedly during the last few days — that if his rivals back out on that pledge, so can Trump. And an eminently viable independent run by an aggrieved and vengeful Trump could produce a catastrophe for the GOP next November. 
Other presidential candidates and party leaders weighed in on Trump's Islamophobic excesses with varying degrees of heat, ranging from Jeb Bush's argument that it plays right into ISIS's hands to Ted Cruz's mild rebuke of the proposal yoked to a reaffirmation of his fond feelings toward the Donald. But nobody's tearing up the pledge and saying they won't back Trump if he raises his hands in triumph in Cleveland next summer. 
Anyone forgetting the havoc Trump could create as an independent general-election candidate got a reminder today from a new national Suffolk/USA Today poll that not only shows him holding on to a robust ten-point lead over the GOP field, but also finds that 68 percent of his GOP supporters would follow him right out of the party if he ran as an indie. Trump himself gloatingly advertised this finding on social media.  
Two surveys back during the summer confirmed the broadly shared impression that a general election that included Trump as a third option could turn a close race into a Democratic romp. A July ABC/Washington Post poll testing Jeb Bush, Hillary Clinton, and Trump in a three-way race showed Clinton trouncing Bush 47–29 and Trump pulling 19 percent. A Marist survey a bit later that month showed very similar results: Clinton 44, Bush 29, Trump 20. There's no particular reason to believe those basic dynamics would change with the passage of time or with different names plugged in. Sure, like all non-major-party candidates, Trump's levels of support would probably fade as Election Day approached. But so long as most of his support came at the expense of the GOP nominee, it would be enough to all but guarantee a Democratic win.
There is some question, of course, of whether Trump would in the end have an appetite for following up an unsuccessful Republican nominating contest with an unsuccessful general-election run. It's probably worth noting, then, his response when asked by the Washington Post's Steven Ginsberg and Robert Costa just last week if he might get discouraged and drop out of the race if his polling numbers drop:
Trump: I will never leave the race.

Ginsberg: You will never leave the race?

Trump: Are you ready? [He waves one arm over his head, as if to clear away everything and remove all doubt.]

I. Will. Never. Leave. This. Race.
Trump may have just been talking about the nominating contest, but maybe not. Why should he clear that up? He's got Republicans over a barrel right now and is undoubtedly enjoying every moment of their excruciating inability to just throw him right out of the GOP.