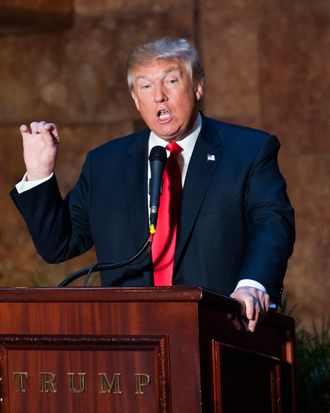 Photo: Janet Mayer/Corbis
Donald Trump's anti-Muslim rhetoric is so popular that the best-known white-supremacist site on the web, Stormfront, says it's installing new servers to handle all the traffic the Republican presidential front-runner has generated.
Talking to Politico, Stormfront founder Don Black said Trump's campaign had reenergized the white-nationalist movement, and Stormfront has the traffic to prove it. He said Stormfront now sees a million unique visitors a month, and traffic spikes 30 to 40 percent whenever Trump makes a controversial statement about minorities.
"Demoralization has been the biggest enemy and Trump is changing all that," Black said.
Even David Duke, infamous racist politician and former Ku Klux Klan figurehead, agrees Trump has been great for racist movements.
"He's made it ok to talk about these incredible concerns of European Americans today," Duke told Politico.
The Southern Poverty Law Center, finding a rare point of agreement with Stormfront, also told Politico that Trump has reenergized hate groups. The civil-rights organization told Politico the bloviating billionaire has been "driving online chatter" among white-power groups.
Perhaps more disturbing are the white supremacists who like Trump's anti-Mexican, anti-Muslim pronouncements, but feel he hasn't gone far enough. Banning all Muslim immigration to the U.S. sounds great to them, but they worry Trump doesn't have the dedication to activate the military and follow through with his plan.
A New York Times/CBS poll released on Thursday shows Trump's candidacy on the rise. He's now leading his nearest competitor, Ted Cruz, by about 20 points.