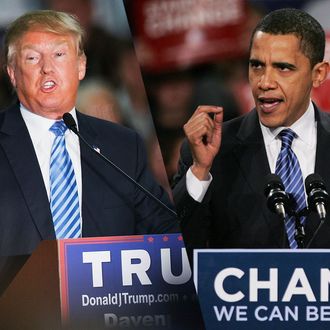 Two candidates as different as night and day, but Trump and Obama both refused to play by the traditional rules in Iowa.
Photo: Scott Olson/Getty Images; Saul Loeb/AFP/Getty Images
In the Iowa Democratic caucuses of 2008, Hillary Clinton, whose forces were led by the legendary field organizer Teresa Vilmain, "hit her numbers" on caucus night, assembling precisely the caucusgoing presence the campaign calculated it needed for victory. Unfortunately, caucus turnout was astonishingly high, nearly doubling that of 2004, and Clinton finished third in state delegates chosen at 1,784 precinct sites.
This was precisely the path to victory in Iowa Barack Obama's campaign had devised from the beginning. It focused on mobilizing students, political independents (and even some Republicans), and in general first-time caucusgoers, and essentially overwhelming the known universe of "repeat customers." And it worked; according to media entrance polls, Obama won 41 percent of the estimated 57 percent of caucusgoers who were participating for the first time and also won 41 percent of self-identified independents. And it made a hash of the Clinton and Edwards (the early front-runner in Iowa who also "hit his numbers" and narrowly edged Clinton for second place) strategies. Obama's win in lily-white Iowa convinced African-Americans and young people elsewhere he was viable, and the rest, as they say, was history.
Strangely enough, we are seeing echoes of 2008 in the Republican campaign in Iowa this year, with the role of Obama being played by his ideological and temperamental opposite, Donald Trump. Ted Cruz, who has emerged lately as the best-positioned challenger to Trump in Iowa, is running a Clinton/Edwards-style campaign focused on the known universe of previous caucusgoers and the politicians and other validaters who appeal to them. Thus, he actually led Trump in a recent Monmouth poll of Iowa that put a big thumb on the scales on behalf of voters who voted in recent GOP state primaries. And Cruz has worked overtime to secure high-profile conservative endorsers like Representative Steve King and social-conservative kingpin Bob Vander Plaats. This is the old-school approach to winning Iowa. 
According to an excellent piece contrasting the Trump and Cruz strategies in Iowa by CNN's Betsy Klein, Cruz has supplemented this traditional approach with a large volunteer base and a sophisticated social-media operation. But it hasn't generated the kind of crowds and excitement Team Trump has mustered. The $64,000 question is whether the people dancing to the Donald's strange tunes will show up on caucus night.
Craig Robinson, a Republican activist and editor of TheIowaRepublican.com, said Trump has "built a home-grown grassroots campaign" and has been able to appeal "to a wide swath of voters, even those who have never been politically active before."

"Trump's field staff makes a difference. They are from the communities that they are responsible for organizing. They lean on their own personal networks to get people to attend and motivate other supporters to do the same. It's really peer-to-peer turnout, and they are probably the best campaign at doing that," Robinson said.
Another factor to keep in mind is that the Republican caucus process in Iowa is a relatively simple event: You show up, listen to speeches from representatives of candidates, and then cast a single vote for your presidential favorite, which is equal in value to any other vote in the state. It's really not that far from a primary. Democrats, on the other hand, have a byzantine process involving affinity groups, thresholds, and vote trading, and raw votes are largely irrelevant; the key is to control state convention delegates. So preparing voters for a caucus night and convincing them to turn out should be easier for Republicans. Noting Trump's ability to draw big crowds on the campaign trail — heavily populated with people who have not participated in past caucuses — Trump state director Chuck Laudner (a well-regarded veteran conservative organizer in the state) made this argument to Klein:
[I]f they can give up three hours on a Saturday afternoon [to attend a Trump rally], I think we can get them to give up 45 minutes on a  Monday night [to caucus].
If Trump does win on February 1, I doubt very seriously he will give a shout-out to that loser Barack Obama for blazing a strategic path to victory on the strength of nontraditional voters. If, conversely, Ted Cruz wins, there is zero chance he acknowledges his limited kinship to Hillary Clinton in pursuing a more, well, conservative strategy. At present, whoever wins is likely to share national media time on the evening of February 1 with HRC. We'll also see then how well she learned the lessons of 2008.