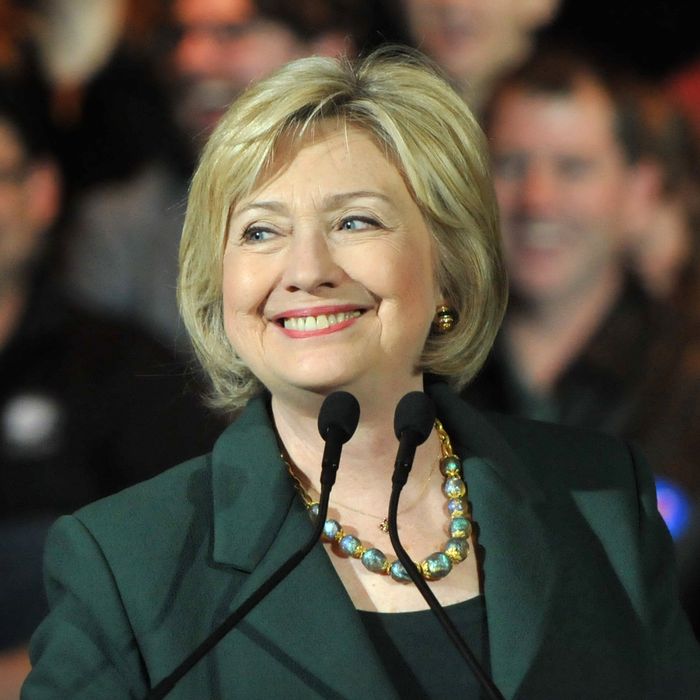 If only Jeb Bush could have worked out this formula.
Photo: Steve Pope/2015 Getty Images
Political scientist John Sides has argued for some time that there's a correlation between Donald Trump's poll numbers and the amount of media attention he receives, so it makes sense that his campaign strategy seems to involve constantly sparking controversies. Now Trump has spun Hillary Clinton's claim that his Islamophobic rhetoric makes him "ISIS's best recruiter" into a weeklong dispute, but this time, the outcome might be a bit different. As Bloomberg notes, Trump "may be helping" Clinton, as "attacks tend to make the Democratic front-runner stronger." So does that mean that Trump and Clinton can both benefit from him using a gross term to describe her loss of the Democratic nomination in 2008?
Democratic strategist Steve McMahon tells Bloomberg that misogynistic attacks — such as Trump's claim that Clinton "got schlonged" and his disgust over her mid-debate bathroom usage — are likely to rally female voters. "It reminds the women who love her so much of the kinds of things that professional and successful women have to go through every day. So it solidifies and strengthens her core female vote, which is fantastic for her," he said. "She's no stranger to [these attacks]. And no one handles it more adroitly than Hillary Clinton does. We saw it in 2008, we saw it in 2000 when she ran against Rick Lazio, and we're seeing it today. It's a reminder that she's at her best and strongest when she's under attack."
Democratic National Committee chairwoman Debbie Wasserman Schultz seemed to agree. "I want him to talk every single day," she said. "It's going to help propel our nominee to the White House."
And Trump insult expert Jeb Bush made the same point, with a less flattering spin for Clinton. "She's great at being the victim," he said Tuesday in New Hampshire. "This enhances her victimology." 
Initially, the Clinton campaign said it wouldn't respond to Trump but noted that she was being targeted due to her gender:
Then, late on Tuesday, Clinton told the Des Moines Register that she finds Trump's remarks misogynistic, while still suggesting that she's above slinging mud back at him. "I don't respond to him personally, because he thrives on that kind of exchange," she said. "I think he has to answer for what he says, and I assume that others will make the larger point about his language. It's not the first time he's demonstrated a penchant for sexism. Again, I'm not sure anybody's surprised that he keeps pushing the envelope."
Meanwhile, Trump spent the evening complaining that he's the target of an unfair media attack, an argument that tends to go over well with his supporters:
After analyzing the term further, the Washington Post's Philip Bump found that Trump did not invent the word schlonged, but it's not a term commonly used by New Yorkers, as Trump claims, and it's hard to see how turning schlong into a verb erases its crassness.
Polls that encompass the Clinton-Trump spat have yet to be released, but it does seem there's an advantage for both candidates to turning their attention to each other. As the AP notes, the summer, fall, and now winter of Trump gave Clinton time to build up her operation and let the Benghazi and Emailgate controversies die down. But now she can easily slide back in to the main story line of the 2016 election by going after him.
As for the GOP front-runner, Bloomberg points out that the latest controversy "pits him squarely against Clinton for a pre-Christmas news cycle before voters tune out for the holidays, creating a veneer that the two are already nominees facing off in a general election."
So, for now, bickering about Trump's sexist language is good for him, it's good for Clinton, and it's even good for journalists who get to examine the origins of a fun Yiddish word during the usually dull lead-up to Christmas. Presumably, the two candidates can't profit equally from the Trump insult machine forever, but that's a question for after the holidays.