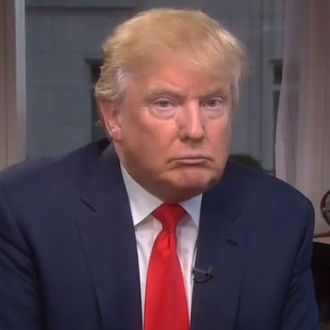 Barbara Walters released her annual "Most Fascinating People" interview roundup Thursday night on ABC, and, to no one's surprise, human Chyron vacuum and "Person of the Year" runner-up Donald Trump made the list. Many of the things Trump said were not terribly unexpected — he's been saying the same things about Muslims and guns and Hillary Clinton for a while — but for those who have been living off the grid in the woods for the past few months or who have made a deal with themselves to only watch Breaking Bad reruns on TV, Walters's questions and responses to Trump's answers make for a good deadpan — and very short — summary of the Republican front-runner's candidacy thus far, one that Trump would probably disagree with because it does not mention the words make America great again or big and beautiful wall even once. 
For those interested in Trump's answers, the whole interview is posted below. 
— "Did you just wake up one day and say, 'I'd like to be president'?"
— "There are up to 7 million Muslim Americans; do you regret at all your proposed ban on Muslims coming to America?"
— "Are you a bigot?"
— "You have said that guns should be carried to fight back against terrorism. Wouldn't that produce more violence?"
— "You are carrying a gun now?"
— "Ordinarily, do you carry a gun?"
— "You have said that Hillary Clinton does not have enough energy to be president. But you and she are about the same age."
— "Is it because she's a woman?"
— "You don't know that."
— "Well."
— "Are you sure you can beat Hillary Clinton?"
— "If you lose the Republican nomination, are you a loser?"
After Barbara Walters asked this question Donald Trump stared right at the camera, as if very afraid he was about to say something that would be cut up and used against him in attack ads — or simply dumbfounded at the fact that he was about to tell America something he had never, ever said before.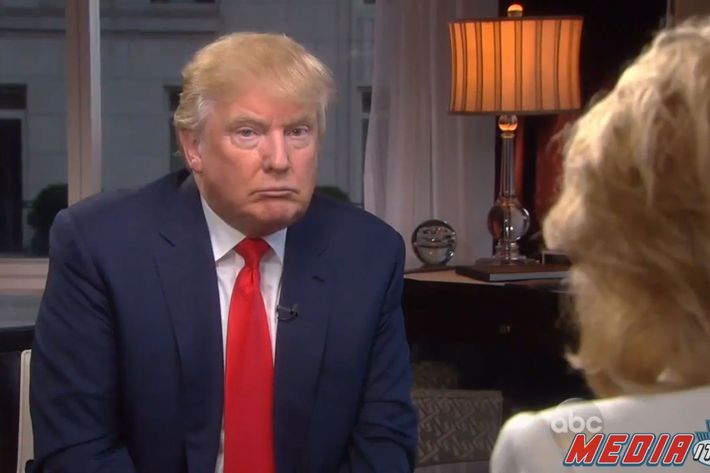 — "Let's say you win the presidency. When you leave office — in one word — what would you like your legacy to be?"
His answer was victory.