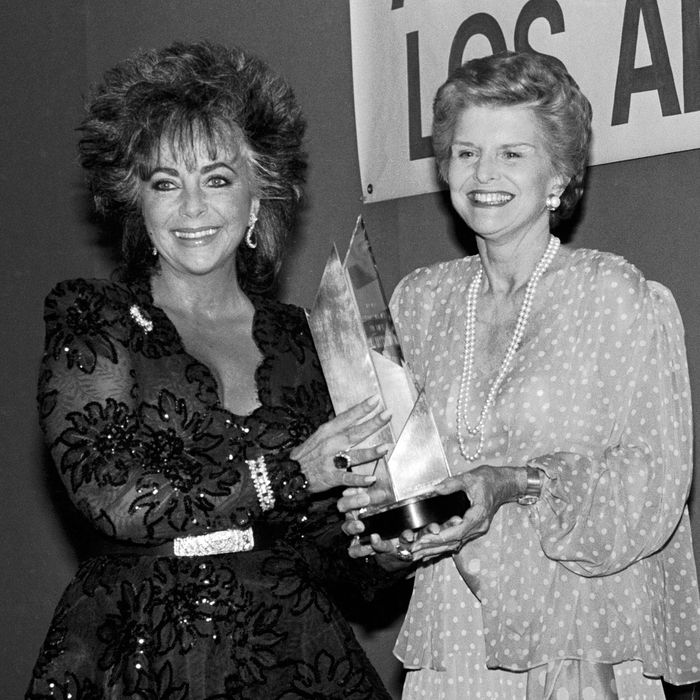 Elizabeth Taylor and former First Lady Betty Ford at the "Commitment to Life" benefit dinner in 1985.
Photo: Alan Zanger/Bettman/Corbis
Last week, on World AIDS Day, the big news was made by Kathy Ireland, the former Sports Illustrated model turned brand marketing mogul, who gave an "exclusive" to Entertainment Tonight in which she revealed what the show billed as "Elizabeth Taylor's Big Secret" was about. It turned out to be that, in the 1980s, Taylor turned her Bel Air mansion into a "safe house" where unapproved experimental AIDS drugs being smuggled into the country by gay men for our besieged community were bought and sold.
"Do you you mean to tell me that Elizabeth Taylor essentially set up a West Coast buyers club?" asked the interviewer, referencing the film Dallas Buyers Club, to give Ireland's story some pop-culture currency.
"Talk about fearless," Ireland said. "At her home in Bel Air, it was a safe house, and a lot of the work that she did, it was illegal, but she was saving lives. She said her business associates pleaded with her, 'Leave this thing alone.' She received death threats. Friends hung up on her when she asked for help."
"Is it true that she actually even sold her jewelry to fund this operation?"
"Yes," said Ireland. "She would sell jewelry. There were transfers of money. Sometimes there would, like, be a paper bag and there would be money— " Ireland broke off and laughed.
As well she should have.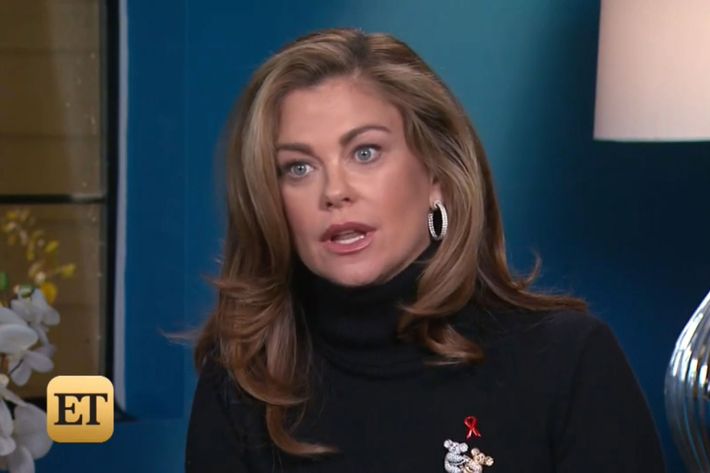 Taylor's legacy as the pioneering celebrity AIDS activist is secure. Like the rest of us who were compelled into activism, she could not idly sit by as friend after friend died. Unlike the rest of us, she could make the media cover AIDS issues, as it trailed her from hospital AIDS wards and displays of the Quilt to congressional hearings and activist press conferences. In her imperial, outspoken, sometimes loopy style, she spoke truth to power and made a big difference. By the time she died in 2011, she had raised more than $270 million for AIDS causes.
But Taylor was not in the trenches or at the barricades, and no one expected her to be. That's why Kathy Ireland's story about Taylor running a Bel Air buyers club sounded to me like bullshit.
Still, I put it out of my mind. On World AIDS Day I end up spending a lot of time on Facebook. Many of my friends post photos of many of their friends who had died. Looking into face after face after face, it hits me again that fucking half of the people I had once shared a world with are dead and gone and never even got to be 35 years old. The crazy feelings of the AIDS crisis hit me again. I remember that I generally forget how it really was.
A day later, Elizabeth Taylor's Big Secret was still all over the internet. Taylor's Wikipedia entry now included the Big Secret. The Telegraph, a British paper, was quoted: "[Taylor] ran a secret safe house in her Bel Air mansion, where people infected with the disease were able to get experimental medication that was outlawed by the American government."
I asked around and found out that a lot of my fellow old-time activists did not believe the story, either. In her defense, Ireland may just be repeating a tale that Elizabeth Taylor told her after they first met in the early 2000s, but that doesn't make it true. Meanwhile, the great Google overbrain was rewriting history, burying the people who were actually responsible for the real "West Coast buyers club" ever deeper in the data.
That chapter in AIDS history had been well documented. How could Elizabeth Taylor's Big Secret have remained a secret for this long in the small, organized, and gossipy network of gay men who were smuggling and selling unapproved AIDS drugs?
What I worried about: that over time, given the online proliferation of this story and the dynamics of search-engine optimization, Taylor would suck all of the oxygen out of the room when it came to recognizing a daring innovation born of desperation that she had nothing to do with. Those real people — the most important ones — are Jim Corti and Marty Delaney. Project Inform is the name of the real West Coast buyers club.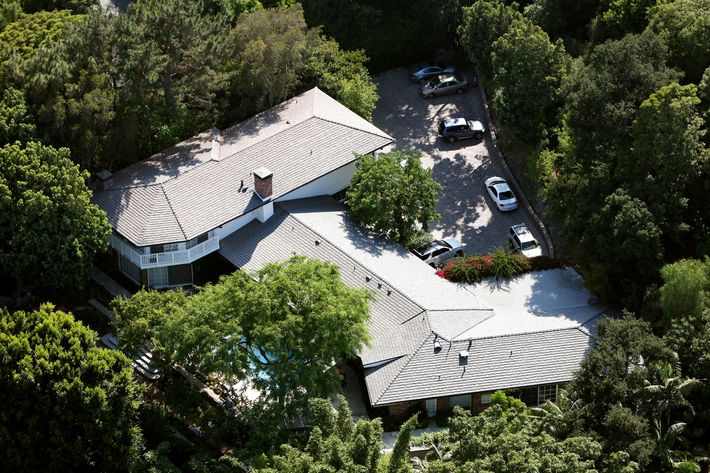 "I don't think Kathy Ireland's story is true," said Sally Morrison, who was the vice-president for development and external affairs at the American Foundation for AIDS Research. Elizabeth Taylor helped launch amfAR in 1985 (with $250,000 from Rock Hudson shortly before his death) to support community-based trials of unapproved treatments. Taylor was the amfAR chair until 1991, and Morrison worked with Taylor on the PR.
"I know that Elizabeth was very supportive of the work that Project Inform was doing with experimental AIDS drugs. She contributed to the organization as a private person. And she encouraged amfAR to include some experimental agents in our treatment information. But running a West Coast buyers club? That's a bit of a stretch, isn't it? But if she were alive today and you asked her, she would probably say, 'I wish I had done that.'"
Maria Pignataro was Taylor's publicist for many years. "I have no knowledge at all about this," she said. "The only thing I recall was participating with her in a Lower East Side needle exchange program at a women's shelter." This was at a time when President Clinton refused to lift the ban on federal funding of sterile syringe swaps for the IV-drug-using community.
If Taylor had been running experimental AIDS drug in Los Angeles, she almost certainly would have been in contact with either the L.A.-based Corti or Marty Delaney at Project Inform in San Francisco. "Marty Delaney knew Elizabeth, but not until later in her life, and certainly not in the 1980s and early 1990s. I never heard anything about Taylor running a buyers club out of her home, and he probably would have told me. He certainly shared other juicy gossip he picked up in Hollywood," says an activist with a long involvement in Project Inform who asked not to be named.
The TV writer Patrick Mulcahey, "one of the troops" in the early years of Project Inform, said, "I can't substantiate any of Ms. Ireland's claims about Ms. Taylor. I would remember if our Project Inform office had heard from her, and I believe Marty would've told me if he had. Certainly it's possible she was working with people in Los Angeles who were driving in ribavirin and other drugs available over the counter in Tijuana. Lots of guys were doing that. The story just doesn't feel very probable to me. In her public statements about AIDS, Elizabeth Taylor never went off-message and was always careful to restrict herself to saying what was true and what was proven. Consequently, I find it hard to imagine her giving anyone medical advice — or, for that matter, medicine."
Sean Strub has been a leader in AIDS activism for many years and was the founder of POZ magazine in 1994 (I was the editor-in-chief for eight years). In 1997 Elizabeth Taylor was the first HIV-negative person on a cover. Strub said: "The report that Elizabeth Taylor 'ran an underground network' importing drugs is news to me, and I was involved in several of those networks. She might have contributed financially to help pay for travel expenses for the couriers or to buy ingredients or drugs, but if she did it was a well-kept secret.  
"I also doubt the story of pawning jewels to buy such drugs because fund-raising for financing these networks was never at the level that would require Dame Elizabeth to pawn her jewelry.
"As for the 'safe house' for people with AIDS, I don't know what that even could mean. She was very generous and compassionate, and she may have had some patients stay with her, but I never heard of her doing so.
"The reports that she received death threats is especially curious because if she did run an underground network, and it was such a secret that even activists didn't know about it, then I'm not sure how anyone would know to issue such a death threat."
Kathy Ireland is acquainted with Project Inform: She reportedly raised tens of thousands of dollars for the group in the early 2000s when Delaney was still alive.
You can read the story of the West Coast experimental-AIDS-drug underground in the 1992 book Acceptable Risks, by former Wall Street Journal reporter Jonathan Kwitny. Acceptable Risks has one mention of Elizabeth Taylor. This is the context: In 1989, when Project Inform was conducting a controversial clinical trial of Compound Q, a high-risk cancer drug made from cucumber extract that Corti had smuggled in from China, a man with AIDS wanted to enroll, even though the trial was closed because a patient had just died. The man told Delaney that his lover was the hairdresser of a "well-known entertainer" and that "she" would donate $10,000 to the group if he was enrolled.
"She." Delaney's mind began to churn out of natural curiosity. He had read that Elizabeth Taylor was upset over the AIDS problem and helping gay male friends. Could it be? … Meanwhile, Corti reported hearing that Joan Rivers, the comedian, had a hairdresser who was sick and looking for Q. As far as Corti was concerned the case of the mysterious entertainer was solved.
What about other evidence? The nation's leading newspapers began reporting on buyers clubs in the late 1980s; the Compound Q fiasco was a big story, and that helped shame federal researchers into getting off their ass. In the early 1990s, books about the AIDS-drug underground began appearing. I searched for the term "Elizabeth Taylor," to no avail.
I'm not saying Kathy Ireland is not a very nice person. In a second interview on World AIDS Day, she spoke to Dan Rather on his Big Interview show on AXS TV. She talked at great length, and often in the present tense, about her relationship to Taylor ("Elizabeth continues to teach me lessons from heaven."). She refers to Taylor as the "Joan of Arc of AIDS."
Be that as it may, Ireland, who is branded by the media as an "AIDS activist," also shared her understanding of the history of the 15-year catastrophe that was AIDS and the daily struggle of real people to take political action, often in the last months or weeks of their life.
"Before Elizabeth Taylor, people were dying from AIDS," she said. "After Elizabeth, people are living with AIDS." Which is not the case. (On the one hand, this is the language of brand advertising and therefore no thinking person should take it seriously. On the other hand, it may catch on with consumers — or, worse yet, historians.)
"Making up stories to embellish Taylor's important AIDS activist legacy dishonors it and is an insult to the people with AIDS and our allies who did put themselves at risk to access experimental treatments in those days," Sean Strub says. "It is important that we are vigilant in making sure that history is recorded accurately."
I left a message for Barbara Berowitz, who was Elizabeth Taylor's lawyer from 1989 until her death and is a director of the Elizabeth Taylor AIDS Foundation. She did not return my call. Cristin Klein, vice-president of communications at the Elizabeth Taylor Trust, also did not respond to requests for comment.
I reached out to Dick Guttman, the founder of Guttman Associates, who has been Kathy Ireland's publicist for 20 years, to ask him to clarify this. He responded: "I read, with some astonishment, your allegation that Kathy Ireland's comments 'may be an embellishment of efforts made by Elizabeth Taylor to help AIDS patients in the late 1980s.' Kathy does not embellish nor, for that matter, did Dame Elizabeth."

He continued, "Kathy Ireland never said or even acknowledged that Elizabeth Taylor ran a 'West Coast buyers club.' This was [a] reporter's common-knowledge reference for the audience to another humanitarian story of compassionate assistance of AIDS sufferers." … Kathy said that Dame Elizabeth had described to her that she had a "safe house" for medical assistance for people suffering from and dying from AIDS.
He said that she felt the need to keep the safe house for AIDS patients a secret. She felt she could disclose the secret only in the early 2000s, which is when she and Ireland became confidantes. But he does not address the mystery of why Taylor felt the need to keep the fact that she was taking care of AIDS patients a secret at the time, much less for these two decades afterward. There was nothing illegal, and everything admirable, about taking care of AIDS patients. He suggests that the people I interviewed did not know about it because they may not have been directly involved.

So, there you have it: He blames the media for printing headlines like People.com's "Elizabeth Taylor Pulled a Dallas Buyers Club with Underground HIV Treatment Center at Her Home, Kathy Ireland Says."

But clarity is important in history. Gutman suggested I "might want to consult" Acceptable Risks, which is about the experimental-AIDS-drug underground and buyers clubs. It is not about safe houses to take care of AIDS patients.

The New York Times review of Acceptable Risks, titled "Guerilla Medicine," offers quick, deft portraits of Corti and Delaney.
In 1984 Mr. Corti, a gregarious medical nurse in Los Angeles, fell by chance and compassion into the role of drug smuggler. At the request of one of his patients he traveled to Tijuana, Mexico, in his yellow minibus (dubbed the Virus Van) to purchase ribavirin, a cold remedy sold over the counter outside the United States but not approved for AIDS treatment here. And eventually, his missions became routine and evolved into a full-time global crusade to find the purest and least expensive sources of any and all remedies rumored to relieve AIDS. Mr. Corti's contempt for the FDA's sanctions against ribavirin is evident: "They haven't even bothered to test [ it ] here…and the pharmacies here can't sell it. Why, because it might be dangerous? Hell, dying is dangerous."

Like Mr. Corti, Mr. Delaney made a few runs to Tijuana in the early '80s, but he quickly became more interested in changing the system than in beating it. A business consultant in Sausalito, Calif., Mr. Delaney founded Project Inform in 1985, an organization that spreads the word about possible new treatments and exerts pressure on Federal bureaucrats and drug companies. In 1989 Project Inform started what Mr. Delaney calls 'medically supervised guerrilla trials'—community-based tests to study the safety and efficacy of drugs that were being smuggled into this country by underground supply networks like Mr. Corti's and that were already being used by AIDS patients.
Read the book. Know what really happened. Next year there will finally be a proper AIDS memorial in New York City, in the little park across from where St. Vincent's Hospital once stood in the heart of what once was, then, the gay ghetto. The artist Jenny Holzer has designed the paving stones and selected the text that will be engraved in them. The text consists of 8,992 words from Walt Whitman's radiant poem "Song of Myself." Nine of those words are "I am the man, I suffered, I was there."