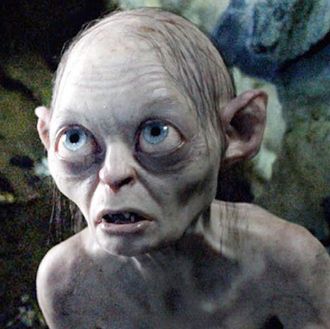 ≠?
Photo: Getty Images, New Line Cinema
A Turkish court has been temporarily adjourned so experts can decide whether the Lord of the Rings character Gollum is good or evil, The Guardian reports.
Bilgin Ciftci, a former doctor, was fired in October for sharing images comparing Turkish president Recep Tayyip Erdoğan to Gollum, the "small, slimy creature" famous for his split personality and conflicted lust for the ring of power. The judge announced that, as he had not seen the Lord of the Rings films, court-appointed experts would be consulted to determine if the comparison was an insult, according to the Turkish daily newspaper Today's Zaman.
Insulting the president is a crime punishable by imprisonment, according to the BBC, and Erdoğan has fueled what members of the Turkish media have called "the biggest crackdown on press in Turkish history."
Ciftci's lawyer, Hicran Danisman, recently told the Associated Press that she had tried arguing the case with a defense of freedom of expression, but she got "nowhere." That forced her to craft an argument explaining why Gollum isn't so bad after all. Things might have been easier had Ciftci compared Erdoğan to Smeagol, Gollum's original name before he was corrupted by power.
The team of experts determining Gollum's morality will include two academics, two behavioral scientists, and a film-and-television aficionado. It remains unclear what criteria they'll be using, but to truly get a sense of Gollum, they're likely to face a grueling, 11-hour movie marathon. Conflicted Lord of the Rings fans might also be relieved to finally get an official answer on the status of the fictional character's soul.
Update: Lord of the Rings director Peter Jackson, along with screenwriters Fran Walsh and Philippa Boyens, weighed in on the controversy in a joint statement. "If the images below are in fact the ones forming the basis of this Turkish lawsuit, we can state categorically: None of them feature the character known as Gollum. All of them are images of the character called Smeagol," they told the Wrap.
"Smeagol is a joyful, sweet character. Smeagol does not lie, deceive, or attempt to manipulate others. He is not evil, conniving, or malicious — these personality traits belong to Gollum, who should never be confused with Smeagol," they continued. "Smeagol would never dream of wielding power over those weaker than himself. He is not a bully. In fact he's very loveable. This is why audiences all over the world have warmed to his character."
There you have it. Now we just need to determine if President Erdoğan hates and loves this terrible law, as he hates and loves himself.