In a blog post today, Twitter announced that it would restore Politwoops, the tool that archived the deleted tweets of public officials. Politwoops, operated by the Sunlight Foundation, had its access to Twitter's API revoked earlier this year. This was in part because Twitter was not too keen on allowing services to house data from Twitter elsewhere. "Honoring the expectation of user privacy for all accounts is a priority for us, whether the user is anonymous or a member of Congress," they said at the time.
This assertion was, as Twitter now implicitly acknowledges, bullshit. Of course government officials conducting government business through Twitter should expect less privacy and to have their remarks retained permanently. Twitter's CEO, Jack Dorsey, implied Politwoops's resurrection in October when he stated in part, "We have a responsibility to continue to empower organizations that bring more transparency to public dialogue, such as Politwoops."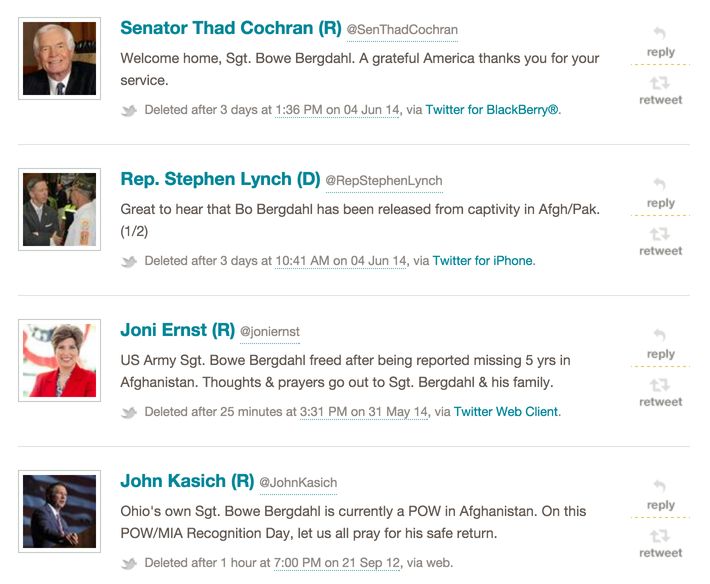 Politicians should not be able to assume that they can wipe their remarks from the public record. Probably the best example of this is the case of Sergeant Bowe Bergdahl, who spent five years in captivity in Afghanistan and Pakistan. Many members of Congress prayed for him and welcomed him home on Twitter, but after reports began to come out that Bergdahl abandoned his post, those same members of Congress deleted their tweets. Politwoops archived them, exposing their hypocrisy.
It might have taken them half a year, but it's nice that Twitter finally realized it didn't need to cover for elected officials.