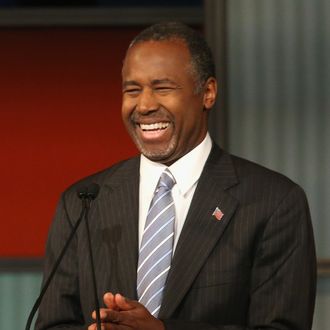 And the primary is only a month away!
Photo: Scott Olson/2015 Getty Images
Ben Carson, who has seen his poll numbers get sliced in half over the past two months, showed that his campaign is going about as well as you'd expect today with news that his campaign manager and communications director have both decided to resign. 
The communications guy, Doug Watts, told the Des Moines Register, "Yes, Barry Bennett and I have resigned from the Carson campaign effective immediately. We respect the candidate and we have enjoyed helping him go from far back in the field to top tier status … Since March, we are proud of our efforts for Dr. Carson and we wish him and his campaign the best of luck."
Last week, Carson told the Washington Post he was upset by how his political fortunes had waned recently, adding that "every job is on the table." Campaign manager Bennett, who just resigned, told the Post, "We had our standard 3:30 p.m. call and I asked him about the story. He said he has 100 percent faith in the team. Dr. Carson was talking about the campaign and the mechanics, not the people."
Carson's reliance on consultant Armstrong Williams was apparently one of the big things that upset the two top aides. Back in November, however, Carson stressed that Williams "has nothing to do with the campaign. Nothing. Armstrong can comment on his own behalf. He does not speak for the campaign at all. He does not speak for me. He speaks for himself." Regardless of that statement, it's clear that Carson is still listening to him; apparently Williams helped schedule the interview with the Post that proved to help spark all of the frustrations that were clearly bogging down this campaign.
His presidential campaign announced earlier this week that it had raised an impressive $23 million — on par with what the neurosurgeon has been raising in previous fund-raising quarters. However, the Carson campaign spends significant sums of the money it raises for the purpose of … raising more money, thanks to its reliance on direct mail. As Jonathan Chait pointed out last month, 
In addition to direct mail, Carson seems to have undertaken a massive phone-spamming operation. Spending most of your money to raise more money is not a good way to get elected president, but it is a good way to build a massive list of supporters that can later be monetized. Perhaps it is a giveaway that the official title for Armstrong Williams, the figure running the Carson "campaign," is "business manager," as opposed to "campaign manager." It does suggests that Carson is engaged in a for-profit venture.
Shortly before his poll numbers tanked, Ben Carson kind of paused his campaign to go on a book tour, something other people who went on to not become president also did during their campaigns. Watts told CBS News that choosing to go to events that lead to personal financial gain instead of campaign events was fine because "Most of America would not know the difference between book tour and campaign because they're watching him on TV."
Besides losing several of his staffers and spending a lot of money raising money, Carson has also spent the last few months talking about how pyramids were actually built to store grain and listening to his advisers talk about how bad he is at foreign policy. Although two of his most important staffers are leaving — only a month before the Iowa caucuses — Carson still has plenty of other staffers. It is not clear if the person who made the map below is one of them.
National Journal reported in November that "one of the things Ben­nett likes about Car­son … is that the can­did­ate is smart enough to know when to call in an ex­pert. When doc­tors 'come upon a prob­lem they don't know the an­swer to, they are trained to call someone else. They're ready, will­ing, and able to sur­round them­selves with the smartest people they can find. Any can­did­ate who tells you they're the best at everything?' he says. 'Run!'"