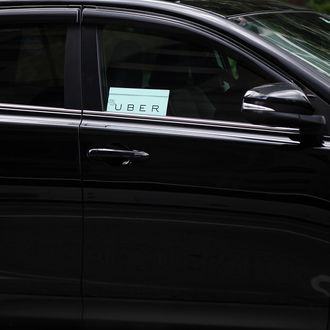 Photo: Spencer Platt/Getty Images
Have you ever sat alone in the back of an Uber car and thought, Man, I wish this car was actually crammed with people, and we could stop a few times to let more people slowly board, and instead of getting dropped right at my doorstep, I'd love to just get out blocks away and walk? If so, Uber's new Seattle pilot program UberHOP, launching this week, might be the transportation option for you.
As Business Insider noted, this sounds a lot like a bus — the new pilot program will stop and pick up people at set times along specific routes, and drop off at designated locations during rush hours for a $5 fee. The company says the pilot's goal is to cut down on traffic congestion by connecting people already headed in the same direction. 
In addition to UberHOP, the ride-share service is proving that it's one step closer to total transportation domination by trying out another service in the Chicago-area called UberCOMMUTE, which will work like UberPOOL except that, instead of getting an Uber driver, riders will be paired with another commuter who's willing to share his ride — basically a standard carpool. The drivers won't be paid, but they will be reimbursed for gas — about 60 cents per mile — and the rider fares will be much cheaper than Uber's other services. UberCOMMUTE will only operate during the weekdays and within a certain time window (6 a.m. to 10 p.m.). Uber will verify the license and driving record of its participants, but probably can't guarantee you'll have any control over the radio.