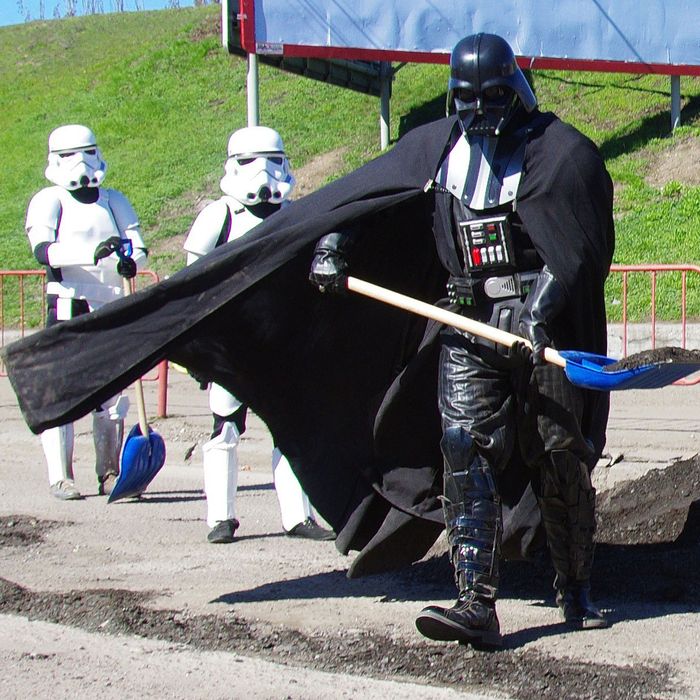 What if Darth Vader was one of us?
Photo: Alexey Kravtsov/AFP/Getty Images
Darth Vader has been living in Western New York for about a year now, according to the Rochester Democrat & Chronicle. Vader, 43, lived in Western New York before 2014, but back then people just called him Eric Welch. Since taking the name of a Sith Lord, Vader, who has been battling leukemia for more than a decade, has completed more than 30 half-marathons and Tough Mudders. The Democrat & Chronicle reports, "For now, he said, he loves randomly walking into rooms, surprising everyone as he's dressed as the Sith Lord. He also repeatedly confirms his identity as the Darth Vader. He flashes ID constantly."
Vader can take comfort in the fact that he is not alone in struggling to prove that his legal name was inspired by a franchise so powerful that it feels like half of Earth has already seen the new Star Wars movie. Obi-Wan Kenobi Briggs in North Carolina, Darth Mykolaiovych Vader in Ukraine, Julius Andreas Gimli Arn MacGyver Chewbacka Highlander Elessar-Jankov in Norway, and Han Solo, Yoda Reeves, and Laura Matthews Skywalker in England probably have the same issue.