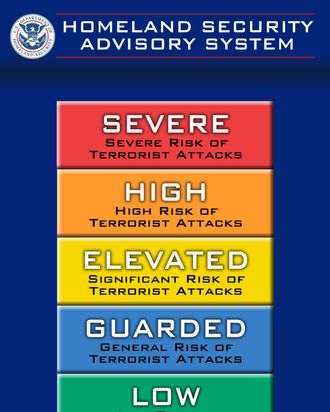 The post-9/11 terror-alert system.
The San Bernardino shooting attack is now being investigated as a case of terrorism, a clear indicator of the changing nature of extremist threats. In response, the Obama administration now plans to update the national terror-alert system. Homeland Security secretary Jeh Johnson said Monday that the new system will allow for "intermediate" threats. 
This would be the third new terror-alert system since 9/11, after the current National Terrorism Advisory System (NTAS) replaced the color alerts in April 2011. The National Terrorism Advisory System has never been deployed; it's only activated when there's a "credible, specific, and impending" threat to the United States. Though Johnson didn't offer many new details about how the new alerts will work, he did say Homeland Security will unveil the new system in the coming days — though it probably won't be as dramatic as the rainbow-version system of years past.