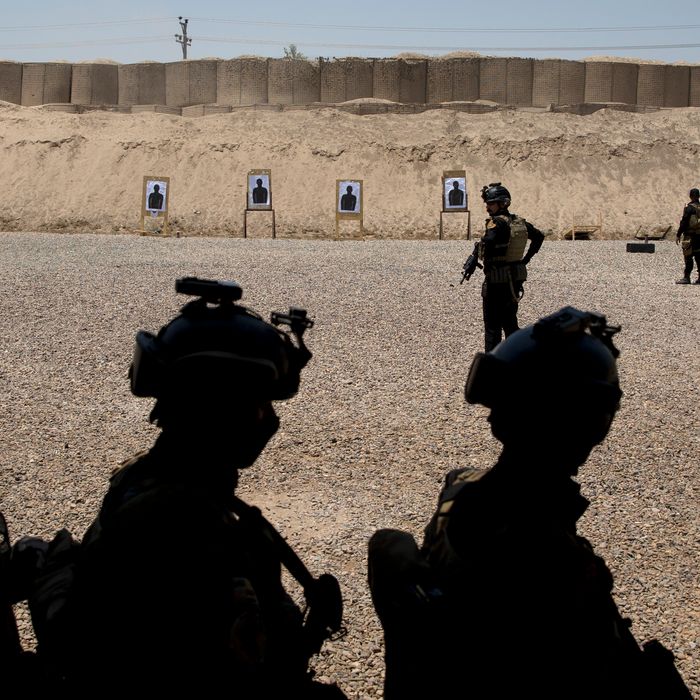 U.S. defense secretary Ash Carter watches as Iraqi troops receive training in Baghdad on July 23, 2015.
Photo: Carolyn Kaster/Getty Images
Facing pressure to do more to take down ISIS following the attacks in Paris, President Obama said last month that there would be an "intensification" of the current U.S. strategy against the terrorist group. On Tuesday, Defense Secretary Ash Carter announced a significant increase in direct U.S. military involvement in the fight, telling Congress that Obama has authorized the deployment of a "specialized expeditionary targeting force" that will assist Iraqi and Kurdish Peshmerga forces, and conduct unilateral missions in Syria. "These special operators will over time be able to conduct raids, free hostages, gather intelligence, and capture ISIL leaders," Carter told the House Armed Services Committee.
In October, the Obama administration said it would send fewer than 50 special-operations personnel to Syria to "advise and assist" rebels fighting ISIS. There are also about 3,500 U.S. military personnel working with Iraqi troops. The addition of this separate force marks a significant expansion of U.S. ground operations in the fight against ISIS. Officials said the new unit would be stationed in Iraq, probably near Erbil, and would consist of about 200 U.S. service members. Rather than just assisting local forces, the unit's operations would be similar to the commando raid that killed Osama bin Laden.
"This is an important capability because it takes advantage of what we're good at," he said. "We're good at intelligence, we're good at mobility, we're good at surprise. We have the long reach that no one else has. And it puts everybody on notice in Syria. You don't know at night who's going to be coming in the window. And that's the sensation that we want all of ISIL's leadership and followers to have."
Carter said the new unit would be mobilized "in full coordination with the government of Iraq," but Baghdad quickly pushed back against that idea. "There is no need for foreign ground combat troops," Iraqi prime minister Haider al-Abadi said in a statement. "Any such support and special operations anywhere in Iraq can only be deployed subject to the approval of the Iraqi Government and in coordination with the Iraqi forces and with full respect to Iraqi sovereignty."
Naseer Nouri, an official in Iraq's Defense Ministry, told Bloomberg News that only limited operations would be approved, adding, "A permanent presence of U.S. forces in Iraq is rejected as it violates the security agreement between the two countries." While there are obvious reasons for Iraqis to be wary of more U.S. troops on the ground in Iraq, the Washington Post notes that American forces are also battling persistent rumors in Iraq that the U.S. is secretly working with ISIS to exert more control over the nation. 
The news was met with caution in the U.S. as well. Senator John McCain — who along with many other Republicans has been pushing for more special operations forces in the region for years — called the move a "belated step forward." However, he said the administration still isn't going far enough. "Today's announcement is yet another reactive and incremental step, specifically responding to the Paris attacks, in a policy that has allowed the ISIL threat to metastasize to Libya, Afghanistan, and elsewhere across the globe," said the senator.
Some Democrats criticized the Obama administration's plan as well, but for different reasons. Senator Chris Murphy said increasing the number of U.S. military personnel in Iraq "is a mistake." "Though tempting to try to make up the inadequacies of local forces with superior U.S. personnel, the slow build-up of U.S. combat soldiers inside Syria and Iraq risks repeating the mistake of the Iraq War — believing that extremism can be defeated by U.S. troops absent local political and military capacity," he said. "We cannot defeat ISIS without the commitment of the local forces and populations that live next to them, and we cannot win this fight for them."