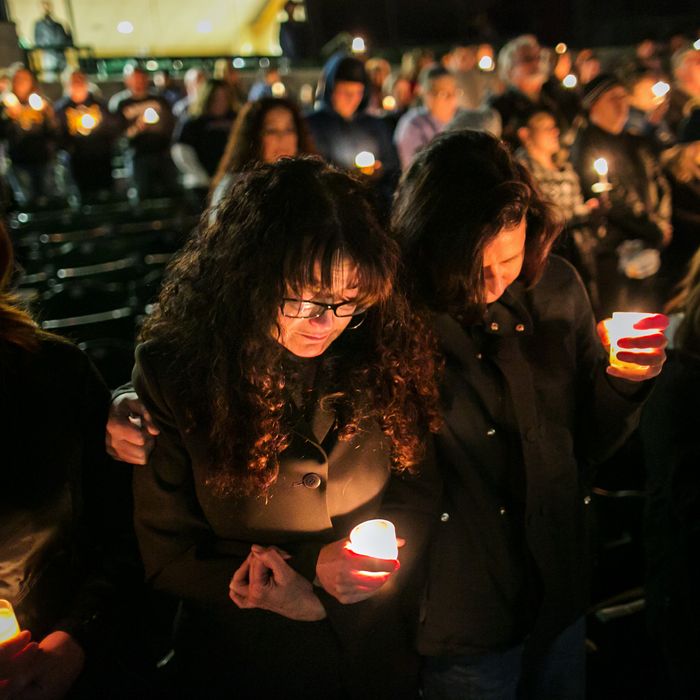 A candlelight vigil to honor the victims of the San Bernardino shooting on December 3, 2015 at San Manuel Stadium.
Photo: Marcus Yam/2015 Los Angeles Times
On Thursday evening, the San Bernardino County Sheriff's Department released the names of the 14 people killed in Wednesday's mass shooting at the Inland Regional Center in the California city just east of Los Angeles. An additional 21 people were injured in the attack, some critically. Most of the victims were colleagues of the main shooter, Syed Farook, at the county's public-health department.
Nicholas Thalasinos
Nicholas Thalasinos, 52, of Colton, worked alongside the shooter at the San Bernardino County Public Health Department. He had a long career in public health, having worked for 14 years in the Health Department of New Jersey's Cape May County before moving to California, according to CNN.
His wife of 14 years, Jennifer Thalasinos, told the L.A. Times that her husband was a "very devout" Messianic Jew who wore tzitzit and a tie clip with a Star of David. She said he had been born again several years ago and engaged in a great deal of evangelism.
The New York Times reports that Thalasinos had expressed strong views in favor of Israel and critical of Islam in online forums. A friend recalled overhearing an argument about Islam between Thalasinos and Syed Rizwan Farook, but said she did not suspect his co-worker would become violent. Jennifer told the L.A. Times that her husband had strong conservative politics and was outspoken about radical Islamic terrorism. She said he had known Farook was a Muslim but was friendly with him and had never suspected him of being an extremist.
According to a GoFundMe page, the couple met online through a community of fans of the '80s television show Beauty and the Beast, shared a passion for science fiction and fantasy, and "had a very deep, spiritual relationship."
Damian Meins
Damian Meins, 58, of Riverside, had recently started working in the public-health department. He previously served for 28 years as a civil servant in Riverside County before retiring from that position in 2010. The AP reports that he received a community award for his work in Riverside, for his "compassion, courage, forgiveness, generosity, humility, inclusiveness, integrity, kindness, respect and service." A profile in the San Bernardino Sun said Miens also taught physical education at the St. Catherine of Alexandria School in Riverside, and dressed up as Santa Claus for the children there at Christmas.
Meins is survived by his wife Trenna, a school principal, and two adult daughters. Another profile in the Press-Enterprise, says Damian met Trenna, his "soul mate," at Notre Dame High School in Riverside in the '70s, citing a former classmate. The AP adds that one of their daughters is also a teacher.
Michael Raymond Wetzel
Thirty-seven-year-old Mike Wetzel of Lake Arrowhead was a father of six who loved babies and coached a local youth soccer team on top of his job at the public-health department, a family friend told the L.A. Times. The Press-Enterprise reports that Wetzel was active in his local church, the Church of the Woods, and Pastor Rod Akins called him a "great part of our church family." Wetzel's children are Andrew, 14, Kailee, 12, and Caden, 8, from his previous marriage to Amy Wetzel, as well as Connor, 8, Karlie, 5, Allie, 1, from his second wife Renee.
Larry Daniel Kaufman
Daniel Kaufman, a 42-year-old from Rialto, ran an independent coffee shop inside the Inland Regional Center where the shooting took place. The L.A. Times writes that he refused to get a driver's license because he so enjoyed riding to and from work with his boyfriend of nearly three years, Ryan Reyes. According to the Press-Enterprise, he worked as a job trainer for Pathways, a contractor at the center, and taught the coffee shop's staff, made up of clients of the center with developmental disabilities, to make drinks and work the cash register. Reyes told the local paper that Kaufman was a gregarious man who liked dressing up in costume and had participated in an area renaissance fair for the past 16 years.
Sierra Clayborn
Sierra Clayborn, 27, of Moreno Valley, was a 2010 graduate of the University of California, Riverside, and worked at the department as an environmental-health specialist. Her Facebook page described her as a "fun individual with a creative outlook on life" who loved her friends and her "blooming career" in public health. The manager of the apartment complex where she lived described her to the L.A. Times as a "super, super lady" who spoke frequently of how much she loved her job. Her profile in the Press-Enterprise indicated that she had helped organize the event where Wednesday's shooting took place.
Bennetta Betbadal
According to the Sun, Bennetta Betbadal of Rialto was a 46-year-old mother of three who fled her native country of Iran at the age of 18 to escape persecution as a Christian by the revolutionary Islamic government. Betbadal married her husband Arlen Verdehyou, a Riverside Community College police officer, in 1997 and had been working as an inspector at the health department since 2006. She was a devout Roman Catholic who spoke Farsi and Assyrian. She leaves behind two sons, 10 and 12, and a 15-year-old daughter.
Juan Espinoza
Fifty-year-old Juan Espinoza of Highland was a health inspector for San Bernardino County. His daughter Jerusalem Espinoza-Mendoza, 25, told the Press-Enterprise that her father had been "a really hard worker … very fair … very honest" and had spoken of education as "something that can never be taken away from you." He leaves behind a wife, Sandra, 47, his daughter Jerusalem, and a son, Jonathan Espinoza-Mendoza, 13.
Robert Adams
Yucaipa resident Robert Adams, 40, grew up in the Inland Empire and was married to his high-school sweetheart, Summer Leah Cronin, with whom he had a 20-month-old daughter named Savannah, according to the Press-Enterprise. He had been working as an environmental-health technician and specialist for San Bernardino County since at least 2011. Summer is the chief learning officer for the county's Department of Human Services, the Sun's profile notes.
Shannon Johnson
Shannon Johnson, 45, was a resident of Los Angeles and had worked as an environmental-health specialist at the San Bernardino County Public Health Department since 2005, according to his LinkedIn profile. His ex-wife Tina Johnson told the New York Times that he had grown up around the South, played college baseball at Augusta State University in Georgia, was a huge sports fan who also loved animals and kept many pets. The former couple had lost touch in recent years, but she described him as a "really good man with a really big heart."
Aurora Banales Godoy
Twenty-six-year-old Aurora Godoy of San Jacinto had just completed the probationary period at her new job at the Department of Public Health and had been looking forward to the gathering where she lost her life on Wednesday, her mother-in-law told the Press-Enterprise. Godoy and her husband James had met in the ROTC program at Carson High School in 2003, married in November 2012, bought a home in San Jacinto, and had a son, Alexander James, who is nearly two years old.
Isaac Amanios
Isaac Amanios, 60, of Fontana, was a cousin of New York Giants safety Nat Berhe, the Sun reports. "Just got word that one of my cousins was among the 14 killed yesterday, I'm so sick right now," Berhe tweeted. Amanios, who also went by the name Isaac Gebreslassie, was an environmental-health specialist and had worked for the county for 11 years.
Harry Bowman
A family member described Harry Bowman, 46, of Upland, to the L.A. Times as an intelligent man who loved his two 15- and 11-year-old daughters. The Sun observed that Bowman had once taught at a private school, noting several tweets from former students.
Tin Nguyen
Tin Nguyen was a food inspector for San Bernardino County. The Desert Sun reported that the Vietnamese-born, 31-year-old Santa Ana resident was planning to get married in 2017, according to her cousin Calvin Nguyen. "She was excited about trying on her wedding dress," her uncle Phu Nguyen told Newsday.
Yvette Velasco
According to the L.A. Times, 27-year-old Yvette Velasco of Fontana was one of four sisters and worked as an environmental-health specialist at the Department of Public Health. Her family released the following statement on Thursday: "Yvette was an intelligent, motivated, and beautiful young woman, who was full of life and loved by all who knew her. We are devastated about what happened, and are still processing this nightmare. We ask that you please respect our family's privacy in order to grieve our loss. Yvette is survived by her parents, Robert and Marie Velasco, and her three sisters, Adriana, Erica, and Genevieve. Please pray for our family and the other families who have lost a loved one as a result of this terrible tragedy."