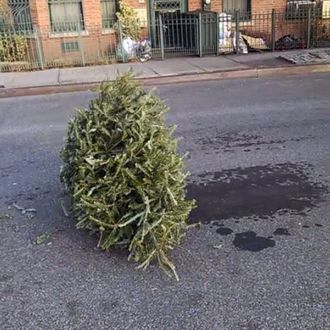 The fate of every Christmas tree sold in NYC.
A turf feud has rocked a Brooklyn neighborhood just days before Christmas. It began on Montague Street in Brooklyn Heights, where two Christmas-tree sellers set up shop a mere two blocks apart, reports the Brooklyn Paper. Adam Parke, a Christmas-tree vendor who's been posted in Brooklyn Heights for more than a quarter century, accused a relative newcomer, Ellie Bishop of Romp Family Christmas Trees, of pushing her way onto his territory and of smearing the quality of his wares. "They've been telling people that our trees have rodents in them," Parke told the Brooklyn Paper.
Pizza rat is one thing; Christmas-tree rat is another thing entirely, so Parke — who grows "the best organic, chemical free Christmas trees in the Northeast" — confronted Bishop one night last week on the street, demanding she stop spreading rumors about his product. A bunch of holiday shoppers witnessed the confrontation. 
Bishop — who took over the business from her mom and gets her trees from North Carolina — denied that she bashed his Christmas trees. Since then, the two vendors have reached, in the spirit of both Christmas and capitalism, something of a detente.
The Christmas-tree debacle isn't the only holiday disaster that's befallen the city. The new, more responsible SantaCon only yielded five arrests and 100 summonses this year, but at least one rogue Santa is facing felony burglary charges. On the night of SantaCon, a man in a Santa suit tried to enter a West Village apartment, threatening the resident by saying he had a gun and telling him, "I'll kill you," say police. It's not clear if this Santa was a participant in SantaCon, or merely thought it'd be a pretty great disguise to dress up like a guy who always gets away with breaking and entering. The Santa ended up ransacking the apartment and fleeing to the building roof, where cops found him. He did not have a gun, or, apparently, a sleigh and eight reindeer to stage his getaway.