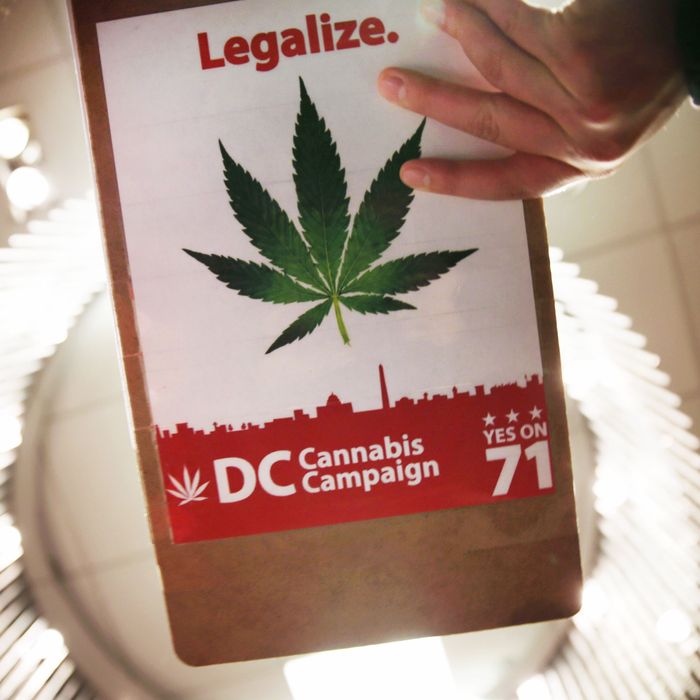 It sounded like a bigger deal at the time.
Photo: Alex Wong/Getty Images
"They tell me I'm doing God's work," a man who asks to be referred to as Nycholas Kush God is saying of his customers. It's late November, and Nycholas is driving through downtown D.C. in an immaculate Mercedes-Benz covered in a full-body wrap featuring hundreds of marijuana buds and the name of his business, Kush Gods. As he pulls up to a light, a teenager with a goofy grin on his face in the next car snaps photos on his cell phone. "You see them come up and bow to us and pray to us," says Kush God. The enthusiasm is understandable: His vehicle is one of the few outward signs that marijuana is legal in the nation's capital.
Like Colorado, Oregon, Alaska, and Washington State, D.C. residents have voted overwhelmingly to legalize marijuana — but unless you live here, you probably haven't heard much about it. In fact, even if you do live here, you might not have heard much about it. This iteration of the law is almost certainly not what residents had in mind when they cast ballots for it last year. It's not what I had in mind when I voted for it. I imagined we'd see something like what happened in Colorado: D.C. turning into a weed-tourism destination, complete with news cameras trailing oldsters going on their first weed tours, celebrity-brand-cannabis launch parties, and the requisite freak-outs about edible potency. But that was naïve. 
A month after D.C. voted to pass the law, House Republicans inserted a clause into its budget preventing the city from using any funds to regulate legalized weed. "Marijuana is a gateway drug of addiction to other drugs," Representative Andy Harris, the Maryland Republican who inserted the budget clause, told Politico at the time. If Harris was bothered by the apparent hypocrisy of using the authority of the federal government to interfere in local affairs as a small-government conservative, he didn't let on. When the City Council tried to move forward on implementation, they were threatened with fines or arrest. So the law that ultimately went into effect was the result of a weird sort of stalemate. Instead of a cannabis utopia, we got something more akin to status quo: You can have up to two ounces, grow up to six plants, and gift it to your friends, but not sell it, buy it, or smoke it anywhere but in a home where the owner permits it. If you're on federal land, roughly a third of the city, you can still be arrested for possessing it. And if you're a federal employee — and sometimes it feels like everyone in this city is or is partnered with someone who is — it's still totally off limits.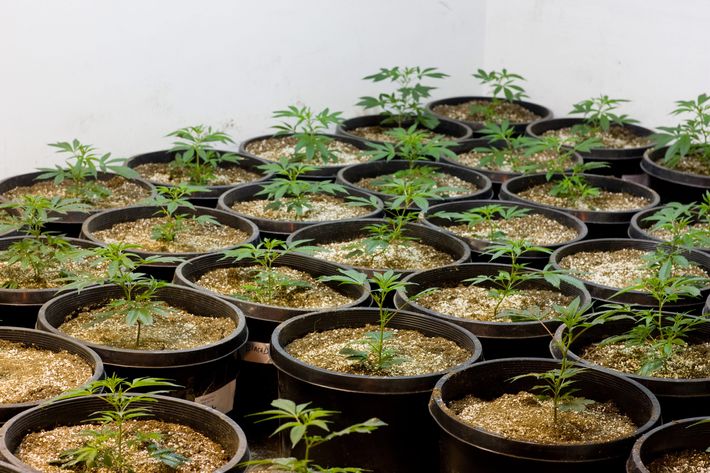 Which makes the Kush Gods basically the only business in town, and it's a risky business: Nycholas operates a "donation-based service" that passes out edibles from a fleet of three vehicles. It works sort of like a food truck — you can follow the Kush Gods on Twitter, find out where the cars will be parked that day, and choose from a menu of cookies, brownies, gummies, and cake pops — or hire them to cater your event. He is not lawyerly about the language he uses to describe what he's doing. "The brownies, each package is pretty much $10," he says. "I mean, of course it's a business, I have to explain that to donors at times, people thinking I should just give it to them for free. I've got to explain that we still have to keep the lights on, and we still have got to provide this service, so you can't just expect us to give this stuff away." He says he used to sweat the cops, but not anymore. "When I first got here, every day I was like, 'Oh shit, oh oh oh!' Every time they passed by, even though I knew the law, I was nervous." After a few months, he said, cops have come up and teased him about buying a bag. "Even though they're joking," he says, "it's definitely a relief."
While evangelists are still trying to help weed culture flourish, there's a limit to what they can do. Earlier this year, the D.C. Cannabis Campaign, which led the push to get legalization on the ballot, held a seed exchange at an Adams Morgan absinthe bar to help would-be growers get started with their home collections. The marquee event at this year's D.C. state fair was a "best buds" contest where judges looked at color, size, and smell to determine the winners — but no one could smoke the weed in question. At least one D.C.-area developer is starting to put "grow closets" in his properties, calling them "kind of like the wet bar of 2015," but even he feels the need to use a euphemism to describe them, for fear of running afoul of federal law or the prospective buyers employed by the government.
That's not to say the law hasn't had any impact. According to Metro Police Department statistics, the city arrested only seven people for possession not in combination with another crime in 2015 — down from 2,161 in 2010. Police Chief Cathy Lanier has signaled that the police are happy not to have to enforce the old possession laws.
But for the recreational user, any changes are at the margins. Brian, a 29-year-old Washingtonian who works at a think tank, recently moved into a group house in northwest Washington with an unusual arrangement: Now that it's legal to grow marijuana, his roommate has the attic outfitted to grow a bunch of it, and the lights he uses to help the plants grow tack on an extra $30 per person per month to the electric bill. This has created a unique economic incentive. The upside is that Brian (who asked me to use a pseudonym because he's sure his employers wouldn't approve) is entitled to his share of the weed. "I smoke only here and there, but I also have a compulsion for good deals. So it's this setup where the more dope I smoke, the better deal my rent is," he says. But there are certain drawbacks, too: "I mean, to be honest, weed makes me paranoid and antisocial. That's why I stopped smoking as much years ago," he says. "So I feel like I should get back into smoking more, but there is a zero percent chance that at some point I won't smoke too much and get super paranoid. That's the downside. That, and the electric bill."