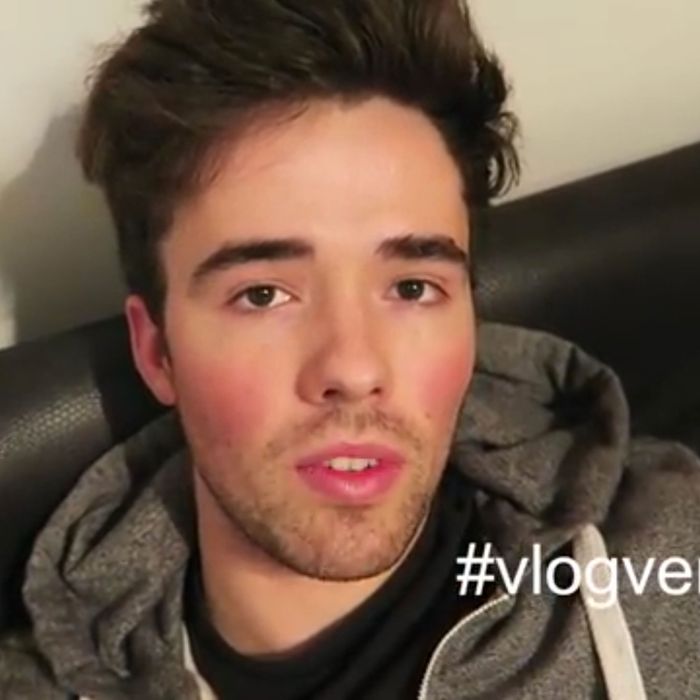 The British director, photographer, and social-media presence Adrian Bliss wants you to know that he started a vlog. It's part of something called "Vlogvember," which sees YouTubers post a video a day for an entire month, perhaps riffing off the annual writing-based National Novel Writing Month, also in November. Bliss's exercise in daily self-documentation is completely excruciating, but that's because it's supposed to be.
Bliss's "Vlogvember" is a parody of YouTuber culture that works only because it's a send-up. It's dangerously close to the actual reality of people shooting mundane slices of their lives and then putting them online for the public to see, but watching the series, it's gradually clear that the long pauses are intentional — as is the halting speech, the superficial question prompts aimed at viewer #engagement, and the terrible video-editing effects. In many episodes, Bliss says that he has a big announcement coming soon. There is never any announcement.
"I started it as a bit of an experiment, and because I wanted to make fun of this unusual world I'm a part of. I always found the whole vlogging thing pretty weird," Bliss says. In fact, the rest of the channel is filled with slightly less incisive, but no less funny, videos like Vlog From the Future and pieces he produced for other famous YouTubers, like the South African teenager Caspar. But Vlogvember was a way to inject a little bit of criticism. Bliss wasn't sure how it would be received. "I expected lots of people to not get it, but the comments of the videos were often funnier than the actual video, with people playing along with the joke."
Bliss aims his smartphone at himself strolling around parks, laying on the couch, going to lunch, never doing much of anything — boring even for a YouTube channel. But he also slyly satirizes community memes like YouTubers going vegan, having fake social media relationships — see "Meet My Girlfriend" — and launching merchandise (a plain teapot and footstool emblazoned with his signature slogan, "have fun during the day").
The latter was even turned into a twee ballad of a theme song by fellow YouTuber Tom Rosenthal. It's enough to charm even Essena O'Neill, the Australian Instagram star who abruptly quit and took to Vimeo to decry how fake all social media is.
The "Vlogvember" series is pretty hard to watch. Bliss stumbles through his monologues like a champion mumblecore actor. The awareness that it's satire sometimes falls away and it just becomes another piece of terrible content on your screen. The project's strength, however, is treading that line with a completely straight face. Its relative roughness is part of the package. "I filmed, edited, and uploaded each video on the same day and came up with the ideas the night before," Bliss says. "It was like taking part in one of those 24-hour film-making competitions every day."
The exhaustion is tangible. By the end of the month, Bliss hints at the emptiness of star social-media presences, with his fake YouTuber girlfriend requesting retweets and trumped-up meetings with Google executives wanting to monetize him. That sadness is part of the project, too. Bliss is sensitive to the YouTuber's plight, or the quandary of anyone who thinks they can find an authentic connection broadcasting their lives online. "There is a grain of sincerity in there," he says. "Quite a few of my friends are YouTubers so I am constantly exposed to this weird world." Maybe it's not quite all it looks in the videos.