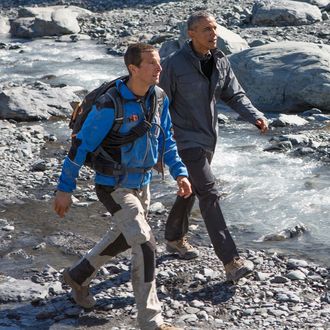 Photo: Delbert Shoopman/NBC
The episode of Running Wild With Bear Grylls that President Obama filmed way back in September finally aired on Thursday night. The White House set up the taping as a way to show Americans a new view of climate change. He became the first president to travel above the Arctic Circle, where he got a close-up view of retreating glaciers, and he also became the first president to be asked to do crazy things by Bear Grylls. 
It is not clear if he is also the first president to eat a bloody hunk of salmon that had already been chewed up by a bear and had "bear breath" on it. Obama's food taster had to approve the morsel before the president was allowed to eat it.
He may have also been the first president to break the existing record of "number of dad jokes told in one hour," but we'll have to check on that. He did not become the first president to drink his own pee.  
The president also made Bear a s'more and revealed that Sasha Obama is the country's foremost s'more expert. When his host questioned the quality of the dessert, Obama protested. "Come on, man. That s'more is solid."