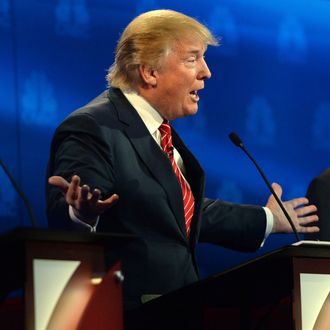 Photo: RJ Sangosti/The Denver Post via Getty Images
It's been more than a month since the last GOP presidential debate — did you miss them? Regardless of whether you've been counting down the days for the next Republican debate or you wish the election would go away forever, Trump and Friends will be waiting for you on CNN at 8:30 p.m. tonight. If you're really into the Republican presidential primary, tune in at 6 p.m. to watch the undercard debate. Questions like "Wait, George Pataki is still running?" will be answered. 
In the prime-time debate, get ready for the suspense of waiting to see if candidates can answer a question without mentioning ISIS or how much they hate the moderators — and offer your own thoughts on the action in the comments section below. 
Daily Intelligencer contributors will be tweeting up a storm during the entire evening. Get excited.