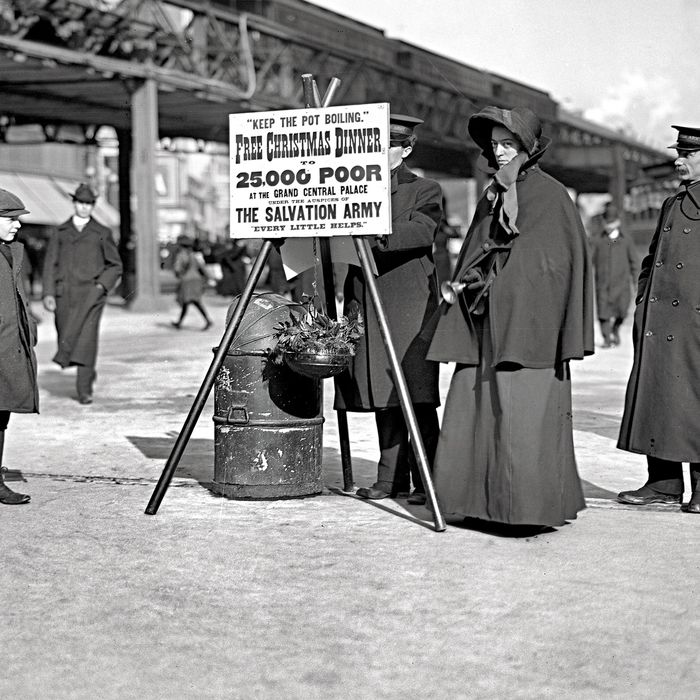 Members are called Salvationists or, more often, soldiers.
Photo: Shorpy Inc.
And what happens to that quarter you drop into the red kettle? Below, a breakdown.
The Structure
The Salvation Army is not purely a charity but also a Christian church, founded in the U.K. in 1865 on mainline Methodist principles. It has a quasi-military structure: Instead of bishops and archbishops, it has lieutenants and majors. Officers are ordained, and the belief system places emphasis on good works at least as much as on faith. The rules are strict; officers may marry only within the organization, and drinking and smoking are forbidden. Even before the organization's American arm was founded in 1880, women were allowed to hold every office, including the top rank of general — the most recent female general, Linda Bond, served from 2011 to 2013 — and they constitute more than 50 percent of officers worldwide.
What Are Those Good Works?
Day-to-day, it runs drug-and-alcohol rehab programs that are free. During emergencies — hurricanes, earthquakes — the group deploys units of its soldiers and volunteers to feed and support victims and also offer counsel and prayer.
The Pay
Officers get very low salaries — about $40,000 a couple per year — but also receive health insurance, a car, and housing. Each receives a new assignment every three years and gets a onetime housing allowance upon retirement. As of 2014, the group's real estate — one-third of its assets — was worth $5 billion.
Money Coming In
Annual revenue: $4.1 billion
Public support*: 53%
Investments: 18%
Thrift-store sales: 15%
Government funds: 8%
Fees for program services: 4%
Other: 2%
*About a third of that comes from the kettles and online donations; a quarter comes from bequests.
Money Going Out
Annual expenditures: $3.5 billion
Administrative costs*: 18%
Community centers: 21%
Rehab programs: 21%
Residential programs: 10%
Other social services: 30%
*This percentage is impressively low; most charities spend about 30 percent.
Big Mac Cash
In 2004, the estate of McDonald's heiress Joan Kroc donated roughly $1.5 billion. Half was designated to build dozens of community centers, the other half for the endowment. Though the plan got off the ground slowly — five years later, only seven centers had been built — there are now 26.
On the Sidewalk
The bell-ringers are mostly volunteers, but extra help is hired at minimum wage. In New York, more than 1,000 people work 271 spots. Last year, they took in $2.1 million here. In some areas, the kettles pay for 40 percent of local programs.
On Gay Rights
In 2012, an Australian officer answered affirmatively when asked whether gays "deserve death," and the U.S. website as recently as 2013 listed links to conversion therapy. After activists protested, an official statement — "The Salvation Army does not consider homo­sexual orientation a sin" — suggested an evolving viewpoint.
That Building on 14th Street
The striking, jagged Art Deco tower, built in 1930, contains a concert hall that once had its own giant pipe organ. (John Philip Sousa wrote a march for its opening day.) The building was the Army's U.S. headquarters until 1981 and remains a regional office and residence.
*This article appears in the December 14, 2015 issue of New York Magazine.