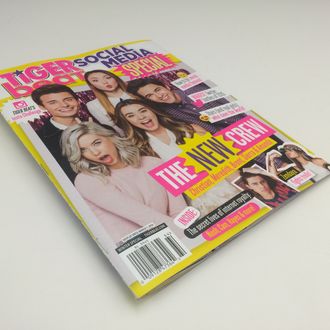 Teen heartthrob magazine Tiger Beat's very first social-media issue hit stands today. "You crammed our feeds with requests for an entire issue devoted to social media stars, so here you go!" is how the front-of-the-book note from editor-in-chief Leesa Coble puts it. What follows is 90 full-color pages of young, fresh-faced, tech-savvy (and mostly white) digital natives. 
As an ancient, 24-year-old millennial, I picked up a copy, hoping to gather some secrets so that I wouldn't get Logan's Run'd off of Vine next year. What follows is what I learned.
Look at all these fun facts!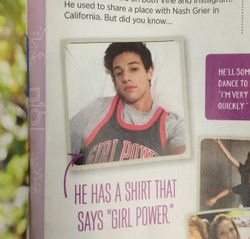 One section of the magazine is How-To's. How to be a Vine star, how to build a YouTube channel, etc. Nearly every single piece of advice falls into one of two categories: very specific media-oriented tactics, or upbeat teen platitudes. 
Most important on the platitude side is to "BE YOURSELF!" When it comes to YouTube, "This is the hardest part, you just need to start!" As one YouTuber says, "I don't write scripts, I just sit down in front of my camera and talk about stuff!" 
Of course, while being yourself, you need to also make sure that you come up with a content schedule, jump on trending topics, and focus test content to make sure it has viral potential. (Nothing says Tiger Beat teen hunk like "content schedule.") The advice sounds, frankly, like the SEO and social seminars nearly every major publication media publication puts on for its staff; for people like me more familiar with the media landscape of five or ten years ago, the strategies of "form brand sponsorships" and "just wing it" seem diametrically opposed. But this may be why I am not a YouTube star!
This might have been the most fascinating aspect of the issue to me — someone who is aware of teen social-media celebrity without being an active consumer of it. Its subjects are surprisingly frank about the Capital-B Business of being an online star and, at the same time, you know: adolescent.
Anyway, the future of content is fast approaching. Some might say it's already here. Despite this being Tiger Beat's first issue dedicated to social media, it's already ready to anoint a new class of web stars. YouTube: The Next Generation includes Brent Rivera (pet peeve: "teachers not erasing every mark on whiteboards"), Meredith Foster (favorite emoji: 😎), Amanda Steele (nickname: Mandy), Christian Collins (knows how to code), and Sierra Furtado (pull quote: "I guess I'm famous. I don't know … I just make videos and do things").
Fascinatingly enough, most of the social-media stars view the platforms where they've gotten their starts as launchpads … straight into old media. Most have aspirations of signing a record deal or acting in TV and film. For all of the talk of new media's ascendancy, and its disruption of the old-media stranglehold, it's clear that for its stars, YouTube is considered a means, not an end.
The next section, "2015 by the Numbers," is all about recapping the year in social media. Maybe you'll enjoy the biggest celebrity Twitter fights of the year. Or maybe:

"It's disgusting."
Maybe you remember Meme Mania. Memes are finally cool in 2015, and these were the biggest ones.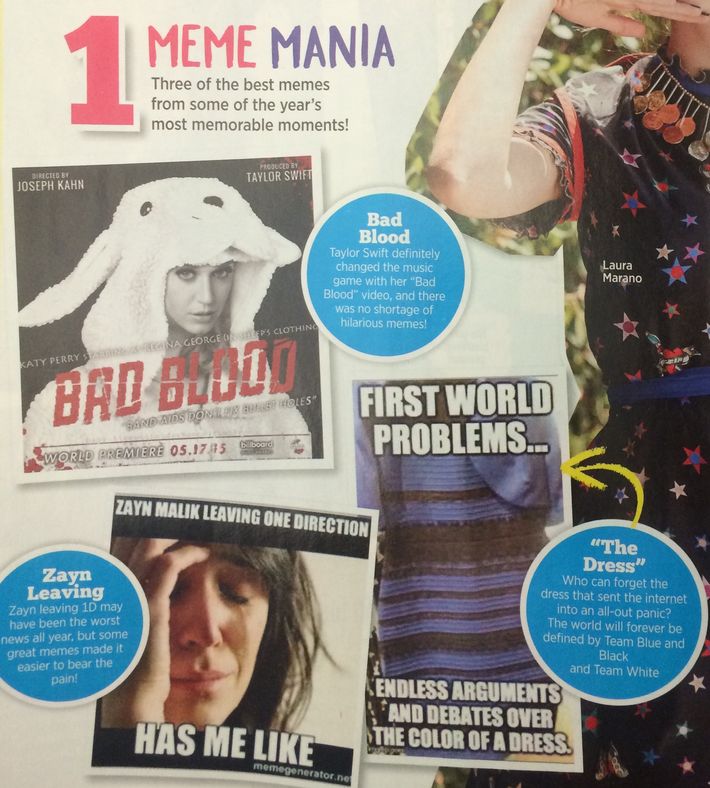 (Despite having its finger on the pulse, Tiger Beat doesn't get everything right. This graphic claims that "What are those!?" is past its prime. That's impossible. "What are those!?" is a transcendent meme. It's timeless. So long as people wear bad shoes, brave men and women will stand up and ask: "What are thooooooose!?")

Lastly, there's an activity section. This is where teen girls (and, uh, me) find out whether we're "selfie crazy," and which emoji describes our destiny. Here's what I learned:
 I am not selfie crazy, I am "camera shy."

 

(True.)
 I am bad at matching tweets to tweeter. (Two out of

 

ten.)
 My texting style is "emoji crazy!" (Unsure about this

 

one.)
 My shade style is cat-eye

 

sunglasses.
 The 👯 emoji best describes my

 

destiny.
 This is my call to

 

fame: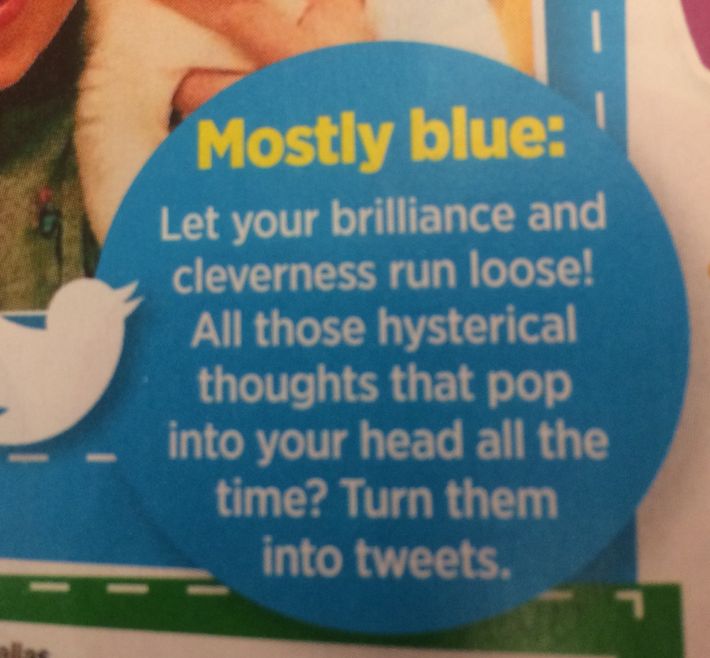 Way ahead of you, Tiger Beat!