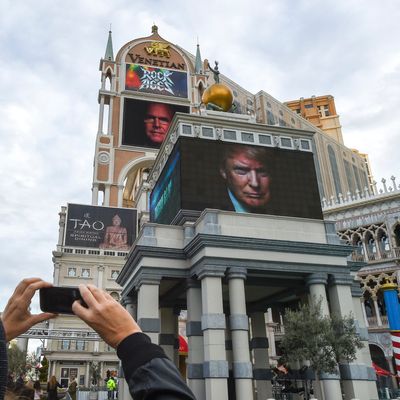 The Venetian promotes this huge, classy debate … and
Rock of Ages
.
Photo: Robyn Beck/AFP/Getty Images
If you fell asleep during last month's Fox Business Network/Wall Street Journal debate, fear not: Tuesday night's Republican debate promises to be much feistier. The debate hosted by CNN and Salem Radio is the first GOP forum since the terror attacks in Paris and San Bernardino, which inspired the candidates to make increasingly extreme declarations about Muslims and the fight against ISIS. The debate doesn't have a theme, but national security is expected to be a major focus. Plus, with Ted Cruz working his way into second place nationally, Donald Trump has a new target. Here's a guide to get you up to speed, and be sure to tune in tonight for Daily Intelligencer's liveblog and complete debate coverage.
When and where is the debate being held?
Tuesday, December 15 at 8:30 p.m. ET. The undercard debate starts at 6 p.m. ET. The debates take place in Las Vegas at the Venetian. 

How can I watch it?
The debate will air on CNN, CNN International, and CNN en Español. There are also lots of options for cord-cutters. CNN will stream its programming on CNN.com and all mobile platforms from 5 p.m. to 11 p.m. ET, with no login required. The Salem Radio Network will also air the debate live on radio stations across the country.
Who will be there?
The main debate will feature Donald Trump, Ted Cruz, Ben Carson, Marco Rubio, Jeb Bush, Carly Fiorina, John Kasich, Chris Christie, and Rand Paul. Here's where they'll be positioned on stage:
CNN boasted that this is the first debate "to use early-state polls as a way to make the main event in prime-time." What that means is that half the candidates only made it in because they're polling well in early primary states. Trump, Cruz, Carson, Rubio, and Bush qualified by averaging at least 3.5 percent in national polls conducted between October 29 and December 13. Fiorina, Kasich, and Christie are on the stage because they are polling above 4 percent in Iowa or New Hampshire. This allowed Christie to return to the main debate after Fox Business Network and The Wall Street Journal bumped him to the kid's table.
Rand Paul really shouldn't be on the main stage, but it appears CNN decided to bend its rules, as it did to allow Fiorina in its last GOP debate. As Politico explains, the math doesn't add up:
According to POLITICO's calculations, Paul was at 2.8 percent nationally, 3.7 percent in Iowa and 3 percent in New Hampshire. CNN didn't immediately explain on the air how Paul qualified for the main debate, but in an online story, a CNN Politics reporter wrote that Paul "was saved at the 11th hour by showing viability in Iowa" according to a new Fox News poll showing Paul at 5 percent. But, according to POLITICO's calculations, that bumped Paul up to only a 3.7 percent average in the state, still short of the 4 percent threshold that had been announced.
In the days before the lineup was announced, the Paul campaign lobbied the network, saying in a statement that "rounding up should be applied" – though as the Washington Post notes, CNN's rules specifically state that "poll averages will not be rounded up or down to the closest whole number." The Fox News poll only "saved" Paul because CNN averaged Iowa polls going back to November 10, rather than the full period from October 29 to November 10. A CNN spokesperson only said that Paul was being included due to the Fox News poll, and "in the spirit of being as inclusive as possible."
Mike Huckabee, Lindsey Graham, Rick Santorum, and George Pataki were not the beneficiaries of any questionable rule changes, and will appear in the undercard debate.
What does the stage look like?
Last time CNN scored points with Republicans by holding the debate in front of Ronald Reagan's Air Force One, then lost them all by letting the candidates melt under hot lights for three hours. The set for Tuesday night looks far less dramatic:

Who's moderating?
Wolf Blitzer will moderate, and as in the previous Jake Tapper–helmed production, there will be additional questions from CNN's Dana Bash and Salem Radio Network host Hugh Hewitt. Definitely add the phrases "best political team on television" and "beardy" to your debate bingo card. 
Blitzer didn't reveal much in his pre-debate interview with CNN's Brian Stelter. "We're going to focus on the #1 issue facing the American people right now, and all the polls suggest that it is the fear of terrorism, ISIS," he said.
How much fighting can we expect?
Much more than we saw in the sleepy Fox Business Network debate. This is the first candidates' forum since Trump proposed his Muslim ban, and recently Trump's been talking about running as an independent, in light of reports that the GOP establishment is plotting against him. (Ben Carson said he has Trump's back, too.)
Trump spent last weekend pecking at Cruz, ostensibly because the Texas senator criticized him at a private fundraiser (but he's actually upset because Cruz has surged to the top of the polls in Iowa). Trump campaign manager Corey Lewandowski offered a preview of some possible attack lines during a Sunday night appearance on Fox News, noting that Cruz once supported a "job killing" increase in HB-1 visas, and "the American people are tired" of politicians speaking differently in public than they do behind closed doors. So far, Cruz is using the "smother him with love" strategy when it comes to Trump, but when their feud moves from Twitter to the debate stage, it will be more difficult to deflect attacks with pop-culture references.
Cruz is also likely to face jabs from Rubio, who's been attacking his national-security positions in particular. Rubio's team has tried to portray Cruz as a flip-flopper and an isolationist, and criticized his support for reining in the bulk collection of Americans' phone records. "There are some differences in policy," Rubio said of Cruz in a recent AP interview. "I think we need to be the national security party, the party of strong national security, committed to ensuring we have the strongest military force in the world."
The AP says "the stakes are particularly high for Bush" due to his unimpressive poll numbers, but that's been true of every debate. There are only six weeks before voting starts, so everyone with mediocre poll numbers is feeling the pressure to make a big impression (though there are two more GOP debates in January).
How are the candidates preparing?
Graciously thanking well-wishers:
Attacking (some) of the front-runners:
And whatever's happening here: