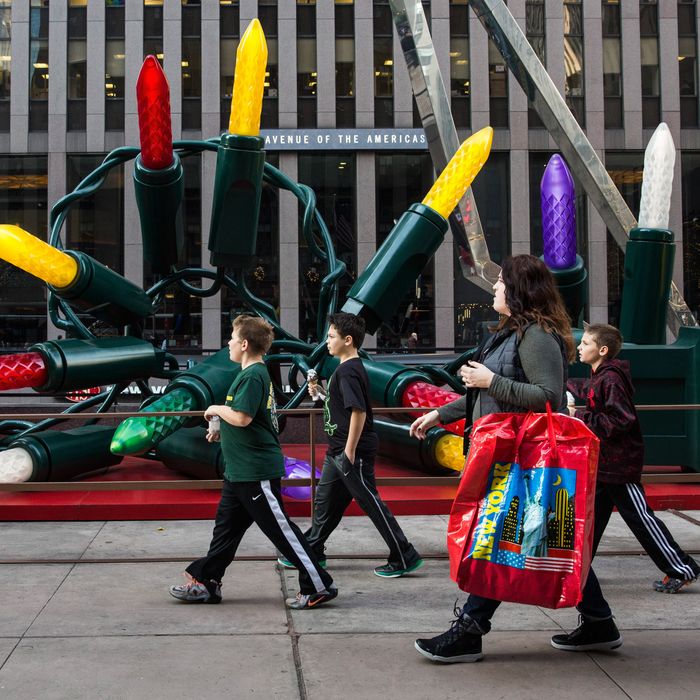 Children walk down Sixth Avenue wearing t-shirts on December 10, 2015.
Photo: Andrew Burton/Getty Images
Earlier this year, Senator Jim Inhofe irrefutably proved that global warming does not exist when he threw a snowball onto the Senate floor … or so we thought. This year, everyone in the central and eastern U.S. is unwrapping a nasty Christmas surprise: the realization that weather patterns are considerably more complex than what you see when you step out your front door. New York City has seen high temperatures in the upper 50s this week, and the mercury is expected to continue climbing, peaking in the low 70s on Christmas Eve. That puts the city on track to shatter the record Christmas Eve high of 63 degrees, set in 1996. It's the same story in many cities across the Plains and East Coast, where temperatures are expected to be about 10 to 30 degrees above average through the weekend, and into next week in some areas.
Though you've probably enjoyed not seeing your breath while holiday shopping and finally identifying with the first few lines of "White Christmas," there's still something unsettling about seeing flowers in bloom next to nativity displays and sipping a warm peppermint mocha while wearing a short-sleeved shirt. But rest assured: The unseasonably warm weather isn't a sign that the end is near … or at least not a huge one.
Just how warm will it be?
According to the Weather Channel, more than 90 of the 236 possible weather-observing sites in the continental U.S. will be at least within 3 degrees of a record high on Christmas Eve. That includes 25 states from Maine to Florida, and as far west as Michigan. Burlington, Vermont, may break a record high of 51 degrees set in 1957, and Raleigh, North Carolina, may break its record of 75 degrees from 1931.
Why is this happening?
We're in a warm-weather pattern meteorologists are jokingly calling a "blowtorch" because weather maps showing temperatures compared to normal look like a big red scorch mark surrounded by orange and yellow rings (and every weather event needs a cute nickname these days). As the Weather Channel explains, what's actually happening is that the current weather pattern is holding warm air from the Pacific and tropics over the U.S.:
A southward dip in the jet stream accompanied the brief cooldown that moved through the East this weekend. Now, early this week, the jet stream will quickly build back north across the eastern half of the nation and allow the widespread mild air to return. This lifting of the jet stream back to the north will be in response to a southward dip in the jet stream sweeping into the West.

Meanwhile, the clockwise flow around high pressure in the western Atlantic will allow southerly surface winds to dominate the East this week, pumping warm air from the tropics northward. Southerly winds ahead of a couple of low-pressure systems moving across the country this week will also help pump in the mild, moist air from the south.
There are several weather phenomena at work, and to understand what's going on you need to get reacquainted with the "polar vortex," that thing that caused our last two rough winters. The polar vortex is a ring of low pressure and cold air that circles the North and South Poles. Per the National Weather Service:
It ALWAYS exists near the poles, but weakens in summer and strengthens in winter. The term "vortex" refers to the counter-clockwise flow of air that helps keep the colder air near the Poles. Many times during winter in the northern hemisphere, the polar vortex will expand, sending cold air southward with the jet stream. This occurs fairly regularly during wintertime and is often associated with large outbreaks of Arctic air in the United States.
While the media has just caught on to the term, it's a normal weather feature that also causes cold surges in parts of Asia and Europe. As Mike Halpert, deputy director of the Climate Prediction Center at the National Weather Service, told reporters earlier this month, the current weather is "really associated with the strengthened polar vortex." "Arctic oscillation," or pressure changes at the North Pole, affect how far south those cold winds can travel. Last winter, high pressure pushed the winds away, causing our frigid winter. This year the pressure is low, so the cold winds are circling tight around the Arctic, leading to unseasonably warm weather.
U.S. temperatures are also out of whack because we're experiencing the strongest El Niño in 18 years. The somewhat mysterious warming of waters in the eastern Pacific occurs every two to seven years, and generates warm winds out of the southwest that make winter milder in parts of the U.S.

Does the warm weather have something to do with climate change?
Just as Senator Inhofe's snowball did not actually disprove that humans are altering the Earth's climate, wearing shorts on Christmas Day in New York doesn't necessarily mean that we're hurtling toward our doom. Experts generally agree that the strong El Niño and the polar vortex are the main causes for our mild winter. That led several outlets to declare that there's no connection to global warming, so we shouldn't be stressed about our parka-free December.
The National Weather Service's Mike Halpert told NPR that if climate change is involved "it's probably fairly insignificant at this point." He continued:
If it were to play a role, it would be more likely if, somehow, climate change is impacting either the Arctic oscillation or El Nino, and we're not really aware that it is at this point. If you think about, maybe – the high temperature over the weekend was 70, so maybe without climate change, it would've been 69. I think it's a fairly insignificant role, if any role at all.
On the other hand, 2015 is set to be the hottest year since records began in 1880, and the United Nations' Intergovernmental Panel on Climate Change said the current temperatures have not been seen for at least 1,400 years. "This will be the warmest year, of the warmest decade, of the warmest multi-decade-long period in at least the past millennium," Penn State University meteorologist Michael Mann told USA Today.
Some recent studies suggest that manmade climate change is increasing the strength and frequency of El Niño, but that link has not been established. Nevertheless, some believe the amount of carbon dioxide in the atmosphere may be contributing to the milder weather. "In a nutshell, this month's eastern warmth strikes me as the kind of dramatic event that one might expect in a strong El Niño, with record-warm temperatures at least a small bit higher as a result of the overall warming of our climate," Bob Henson, a meteorologist with Weather Underground, told Bloomberg. He said that if all the factors that contributed to December's unusually warm weather were sorted out, we'd likely find that the odds of an extremely warm month have increased. "So to that extent, you could say that this month is partially a result of climate change," he added. "But there's no good way to estimate quantitatively how much a role the human factor played until you do the attribution study."

How is the warm holiday season affecting the U.S.?
Even if you don't believe our extreme weather is another sign that we're destroying the planet, there are some reasons to be concerned about the toasty weather. Higher temperatures are hurting ski resorts in the northeast (but helping golf courses), and Planalytics, a firm that helps retailers plan for weather changes, estimates that the weather cost stores $185 million in lost sales last month. Nationally, boot sales are down 3 percent, and sales of hats, gloves, and scarves are down 2 percent.
While holiday travelers won't have to contend with snow and ice, getting to your destination still won't be a breeze. Accuweather's Alex Sosnowski says there should be plenty of weather-related delays thanks to rain, fog, and thunderstorms in the eastern half of the country, which may become severe in parts of the South to the Ohio River Valley in the coming days.
Overall, though, those in the eastern half of the United States should probably remember that plenty of people around the world have figured out how to muster some holiday cheer with absolutely no hope of seeing snow on Christmas. In Australia, Christmastime means barbecuing and heading to the beach. Celebrations in Caribbean nations often involve fireworks and street parades. And in Hawaii, where the Obamas spend Christmas every year, Santa comes to town in a canoe, wearing shorts and a lei around his neck:
So yes, it's weird that it'll be too hot to don an ugly Christmas sweater in New York this year, but don't expect your friends and relatives from warmer climates to be impressed.