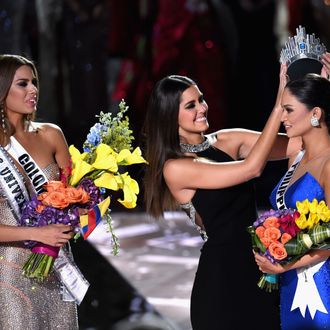 Photo: Ethan Miller/Getty Images
A woman is in the news, which means porn production company Vivid Entertainment is offering her $1 million to "do porn." Facebook's "Trending Topics" bar greeted me this morning with the news that Vivid founder Steve Hirsch has offered — "[i]n a letter leaked to TMZ," the Daily News reports — Miss Colombia Ariadna Gutierrez, who was mistakenly and briefly named the winner of the Miss Universe pageant on Sunday night, $1 million "to make a sex tape." How many times can we read this story?
Among the women Vivid has offered $1 million (or more) for a porn contract:
(The company also offered Amanda Knox a job as a spokesperson, but not a role in a movie.)
How is it possible that the same, stupid, transparent publicity stunt can "go viral" so many times over? For one thing, the audience for content on the internet is so huge, and the slough of content so voluminous, that it doesn't really matter: You will always find someone who hasn't encountered the "Vivid Offers $1 Million to" story before.
But really my guess is that no one is particularly interested in the content of the stunt, anyway; generally, I'd bet that stories about Miss Colombia being offered a porn deal aren't shared because people believe there's some news value to them but because the story itself is a convenient shell for a set of opinions. Link on Facebook and let us know what you think of this woman! Is she too good for porn? Too ugly for porn? Would you like to see her in a porn? It's not an accident that the women who are the recipients of these offers tend to be in the same category: on the precipice of national fame but not widely beloved. (In some sense, they're famous for being available to have judgment passed upon them, in a way that actresses and singers just aren't.)
There's a whole category of "news story" where time doesn't matter because the intrinsic value of the content isn't in its newsworthiness but in its share-worthiness. The question is not Is this something I need to know? but Is this something I have a strong opinion about? This is how four-year-old videos about, e.g., vajazzling become newly viral. And how Vivid gets away with making the same offer over and over again, and still getting covered in the news.
Also, these offer letters are always leaked to TMZ! Vivid should do an internal audit.