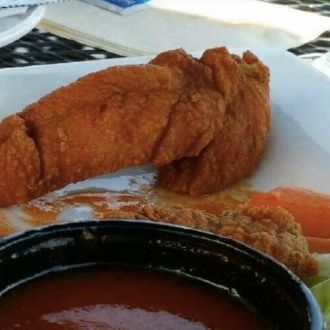 The simultaneous rise of food photography and social-media whistle-blowing means that whenever someone's fried chicken looks like something it shouldn't — like, say, a rat — we know about it within hours. And that's why you now know about the Buffalo Dicken Finger, a chicken finger that looked like … well, it looked like a dick.
A decade ago, someone like Redditor DonnyGeeseGuy would have had a laugh with his fellow employees about the uncanny resemblance between this piece of chicken slathered in buffalo sauce and a human male sex organ, but that's about as far as it would have gone. But this is 2015, and we like our news about phallic fried chicken as hot and as fresh as we like our phallic fried chicken, so this bad boy ended up all over Reddit, and then spread from food blogs to mainstream news sites. Hello!
"We didn't notice it at all when we sent it out," DonnyGeeseGuy told Death and Taxes when they contacted him with some hard-hitting Dicken Finger questions, because the public has the right to know.
"It was the customer that called her server over and pointed it out. We all couldn't believe it."
Although the diner took photos of her noticeably phallic meal, DonnyGeeseGuy said she ultimately wouldn't go as far as actually putting it in her mouth, and sent it back to the kitchen.
In an update on Reddit, he added that the finger-that-didn't-quite-look-like-a-finger was ultimately thrown away.
"So really, the world may never know if something other than chicken slipped through the cracks," he told Death and Taxes.
Donny declined to share the name of the restaurant that employs him, so we're left dining in the dark, essentially playing a game of Buffalo Dicken Finger roulette with our lives.

Thanks, Donny. Thanks for nothing.