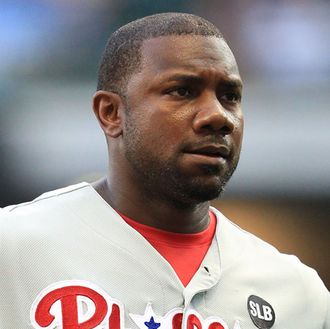 Ryan Zimmerman and Ryan Howard, among the athletes named in Al Jazeera's report, are suing the network.
Photo: Getty Images
Ryan Zimmerman of the Washington Nationals and Ryan Howard of the Philadelphia Phillies have filed defamation lawsuits against Al Jazeera over a documentary that claimed they, along with other athletes, allegedly received shipments of performance-enhancing drugs. In the report, Charles Sly, a former intern at an Indianapolis anti-aging company, says in a secretly recorded conversation that the two ballplayers received Delta-2 hormone supplement shipments, but he has since recanted the story, saying the statements attributed to him "are absolutely false and incorrect."
Both players accuse the network of libel and invasion of privacy. The suits name as defendants Al Jazeera America, reporter Deborah Davies, and British hurdler Liam Collins, whom the network sent undercover to expose PED use in sports. Via ESPN, the suits claim that the report contained false statements and was inaccurate, unsubstantiated, and reckless in nature. As public figures filing defamation suits, Zimmerman and Howard need to show not only that Al Jazeera's report was false, but that the network also acted with either actual malice or reckless disregard of the truth.
In the filing, Zimmerman's attorneys make claims to that effect, and also take a shot at the network's ratings woes, writing that the "defendants knew full well that their 'source' [Sly] had recanted his scandalous and untrue allegations against Mr. Zimmerman, but, abdicating all journalistic responsibilities, defendants nonetheless chose to publish their defamatory story in an attempt to stir scandal and increase Al Jazeera's low ratings, no matter the cost to Mr. Zimmerman."
The suits also seek to call into question the integrity of Collins, a hurdler who pretended to be a potential client searching for PEDs and secretly recorded his conversations. Via Deadspin:
The complaints call Collins a "known fraudster and publicity-seeker who gained fame in 2009 as a semi-finalist on Britain's Got Talent as part of the dance duo 'Faces of Disco.'" They go on to point that Collins has no news reporting experience and that Collins once "made news for busking in Glasgow dressed as Iron Man, in a purported scheme to raise money for his wedding."
The Al Jazeera report initially made headlines last month because Sly said he'd sent shipments of HGH to the wife of Peyton Manning. The Broncos quarterback called the report a "complete fabrication."