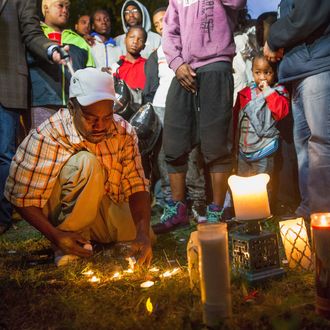 Memorial for five people shot, including an infant, on Chicago's South Side.
Photo: Scott Olson/Getty Images
In the first ten days of 2016, three times as many people were shot in Chicago as in the beginning of 2015, the Chicago Tribune reports. There have been 120 shootings leading to 19 deaths this year, seven of them this weekend alone, including two teenagers shot by a liquor-store clerk and another killed at a party just four blocks from Mayor Rahm Emanuel's house.
The Chicago Police Department spokesperson, Anthony Guglielmi, blamed the numbers on "chronic gang conflicts driven in part by social-media commentary and petty disputes among rival factions." He called for a further crackdown on guns: "Every year Chicago Police recover more illegal guns than officers in any other city, and as more and more illegal guns continue to find their way into our neighborhoods, it is clear we need stronger state and federal gun laws."   
Almost 3,000 Chicagoans were shot in 2015. (Last year at this time, nine people had been killed and 31 wounded; the last time the numbers for January were this high was in 2012.) According to one site keeping track of Chicago violence, 81.8 percent of this year's homicide victims have been black, and 90 percent have been male.