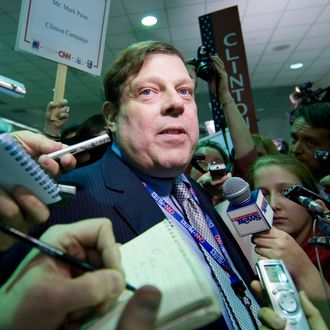 How can the Clinton nightmare of 2008 recur without "strategist" and campaign irritant Mark Penn?
Photo: Bob Daemmrich/Corbis
It's understandable that Hillary Clinton supporters are feeling nervous now that Bernie Sanders appears to have overcome an autumn swoon in the polls and is showing strength in both Iowa and New Hampshire.
But that doesn't completely justify Paul Kane's Washington Post piece on Friday describing Team Clinton's jitters as "a sense of deja vu from 2008, when Clinton's overwhelming edge cratered in the days before the Iowa caucuses." For one thing, the momentum has seesawed back and forth in the Clinton-Sanders race. It's hyperbolic to say there's any cratering going on. And looking back to 2008, the element of surprise at Clinton's showing is apparently stronger in the rear-view mirror. The early leader in Iowa was John Edwards, not Hillary Clinton. And Obama was leading in an ABC/Washington Post poll as early as July.  
Another major difference is the key dynamic in the Obama-Clinton contest, wherein his Iowa win instantly moved the bulk of African-American voters from her column to his after this demonstration of viability. Kane's piece suggests the same thing could happen to Sanders, but the analogy is questionable unless there are vast numbers of self-described democratic socialists lurking in Clinton's columns in the post–New Hampshire states, waiting for a sign. 
But the biggest difference is in Clinton's own team. It could not be 2008 all over again without Mark Penn, the ubiquitous pollster-strategist who offended just about everyone (including his many detractors in Hillaryland) and hogged media attention. By all accounts, in fact, the whole Clinton operation, under low-key campaign manager Robby Mook, is massively less fraught with rivalries and negative vibes. And the strategic lessons of 2008 have surely been learned; there is zero chance Clinton will neglect to devote resources to small-state caucuses, where Obama, nearly unopposed, offset her Super Tuesday wins. 
One echo of 2008 that could be heard if Sanders manages to wrest the nomination away from Clinton is the reemergence of the PUMAs (short for "Party Unity My Ass"), women angry that their candidate had been repulsed in favor of a significantly less experienced man. And indeed, the anger could be more intense without the parallel history-making Obama represented. Yes, Bernie Sanders could be the first septuagenarian elected to a first term as president (and the first Democrat of that vintage to win a nomination), but that hardly seems the same. 
Finally, it's unlikely Clinton will lose in Iowa and then win New Hampshire, which is probably Sanders's best state outside his own Vermont or perhaps those Bern-ed over grounds in the Pacific Northwest where he's so immensely popular. But it's also unlikely, at present, that she will get wiped out in a string of southern states stretching from Virginia to Louisiana the way she was by Obama, unless Sanders shows an appeal to African-Americans that he can only dream about at present. 
The more you look at it, the more any 2008 "déjà vu" for Clintonians seems ill-placed. But if Mark Penn shows up at headquarters, all bets are off.