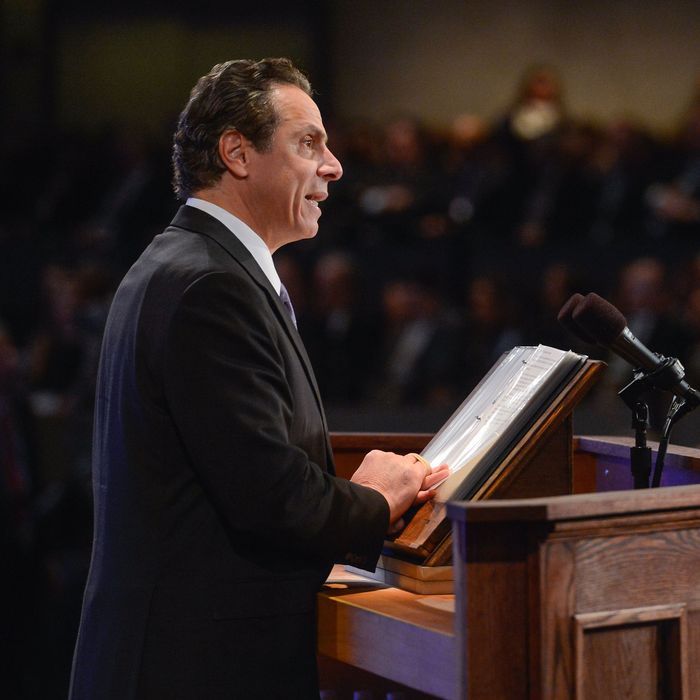 And you get paid leave! And you get paid leave! And you get paid leave!
Photo: Darren McGee
Shortly after beginning his State of the State address on Wednesday afternoon, Governor Andrew Cuomo said it was clear that Albany was far superior to that disagreeable lot that gathered to hear the State of the Union last night in Washington, D.C.
"In New York we have political differences, not political divisions," he argued, "and that's all the difference in the world."
Shortly after he mentioned how there are absolutely no political divisions in Albany whatsoever, he was interrupted by a heckler. A heckler who happened to work in the Assembly. 
Assemblyman Charles Barron — who represents part of Brooklyn — yelled at Cuomo, "He has a billion-dollar surplus, and the poverty is high. Don't believe the hype. Come to the neighborhoods. We're still suffering." He was rewarded with a few boos and an escort out of the room. "Just because you yell doesn't mean you're right, and just because you stand doesn't mean you're correct," Cuomo said as he was leaving. "That's what this Legislature is all about."
Eventually, Cuomo got to the meat of his speech — some of which was already unveiled, allowing the governor to eat up as many news cycles as possible. He talked about his plan to fix "miserable" Penn Station, his plan to make the subway look extra spiffy and have Wi-Fi, and other ideas on how to implement criminal-justice reform. 
He also provided specifics for a few things he's been talking about for a while, like education — he wants to increase school aid by about a billion dollars — but especially homelessness, an issue he's been sparring about with Mayor Bill de Blasio. He put forward a $20 billion plan, supplemented with money made from state court settlements, to build 100,000 units of permanent housing and 20,000 supportive housing units over the next decade and a half. Last year, de Blasio announced a plan to spend $3 billion on 15,000 supportive housing units, saying that New York City couldn't wait for the state's help forever. 
The mayor was at the State of the State — but probably didn't like the parts where Cuomo said that New York City would have to put more money toward CUNY and Medicaid than it has had to in the past, one of the ways Cuomo plans to save money and pay for his proposals. And less than a week after de Blasio signed an order giving thousands of NYC workers six weeks of paid family leave, Cuomo announced that he wanted to give New Yorkers 12 weeks of paid family leave. 
It seems more and more likely that this plot of endless bickering doesn't end with the pair realizing that they were meant to work together in sweet Democratic bliss forever. 
Cuomo brought up his dad when talking paid leave, saying, "I have kicked myself every day that I didn't spend more time with my father at that end period. I could have — I'm lucky, I could have taken off of work." However, he noted, many "don't have that choice." A paid leave has been floating around the State Legislature for a while, unable to make it through the Republican-held State Senate. The governor also got personal when talking about his plans for fighting breast cancer. 
Given the tumultuous year that Albany has on the demerits front, with two well-known politicians in danger of landing behind bars, it was inevitable that Cuomo was going to say something about ethics, too — especially since Preet Bharara said he couldn't prove that the governor did anything illegal with the Moreland Commission.
The governor wants to limit legislators' outside income to about $12,000 a year — a clear reaction to former assemblyman Sheldon Silver, whose lawyer argued during his corruption trial, "It's virtually impossible for someone to serve in this citizen-legislator model and not have some form of conflict. It's OK to be motivated by the money. Our legislators in the state of New York are part-time."
Cuomo also said that convicted lawmakers shouldn't get their pensions; Silver and former state senator Dean Skelos have both filed paperwork for theirs. 
Cuomo also wants to legalize mixed martial arts. 
The whole budget proposal would cost $145 billion.
Unsurprisingly, Rob Astorino, the guy who once ran a "Daisy" ad against Cuomo, did not like the speech. 
You can read the whole plan here.