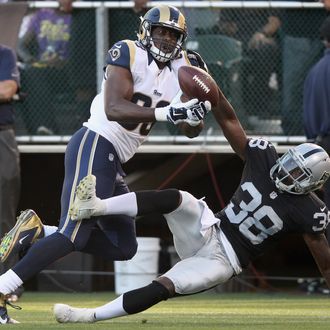 How the dispute will be resolved, probably.
Photo: Ezra Shaw/2015 Getty Images
Los Angeles has gone two decades without an NFL team, but suddenly it's where every franchise wants to be. The Oakland Raiders, the San Diego Chargers, and the St. Louis Rams all submitted relocation applications to the league on Monday, the first day they were allowed to do so. After many unsuccessful attempts to get new stadiums built in their current locations, the three teams have set their sights on the L.A. area. Earlier this year, the Rams unveiled plans for a $1.86 billion stadium in Inglewood, and several weeks later the two California teams — which currently occupy the oldest stadiums in the NFL — announced plans to share a $1.7 billion facility in Carson. The final decision lies with the NFL owners, who may select one of the two projects as early as this month. Until then, L.A. residents will be anxiously waiting to learn which team they'll be contractually required to root for.