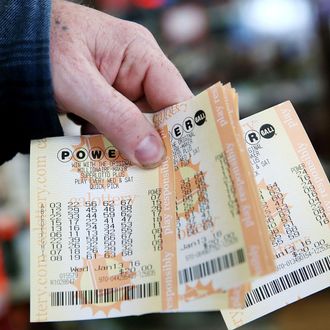 Photo: Justin Sullivan/Getty Images
None of last night's big Powerball winners came from New York — three people from California, Tennessee, and Florida will be splitting the $1.6 billion jackpot — but the city did get a little bit of lovin' from the lottery gods. 
Three people in Queens picked enough of the right numbers to get $1 million each. One of the tickets was purchased at the — we kid you not — Good Lucky Charm Gift Shop in Ridgewood. No one who bought thousands of dollars worth of tickets at a "lucky" deli on the Upper West Side won the biggest prizes. 
People in Stony Point and Bethpage also won $1 million, as did four people in New Jersey and Connecticut. Seventy-nine New Yorkers won the third-place prize of $50,000. Before the winner was even chosen on Wednesday night, the New York Daily News found plenty of locals super angry about all the taxes they would have to pay if they won. A doorman in Queens said, "Only in New York. It's messed up. This is America. Everything should be equal." A taxi driver from Haiti wasn't as worried. "I left my country as a lawyer to drive a yellow cab in New York. They can take as much as they want as long as I end up a millionaire."
There were four second-place winners in Texas — but it seems unlikely that the man who fell into a deep hole on his way to buy a ticket was one of them. 
Even Hillary Clinton bought a ticket — she told Good Morning America that if she won, she'd "fund her campaign."