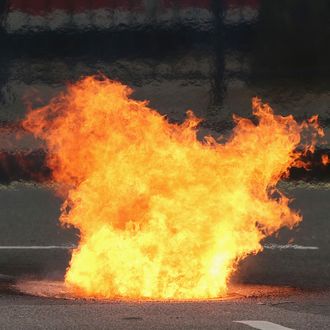 A wave of underground fires?
Photo: Dan Kitwood/Getty Images
On Tuesday, I got out of the subway, and my street was billowing smoke. "What the hell are you doing?" an officer shouted as a distracted pedestrian walked through the emergency zone. It turned out to be a manhole fire — one of dozens burning right then, all over New York, some of which had begun with full-on explosions. There have been 400 manhole fires in the city since Friday, 80 on Wednesday alone, leading to power outages in about 2,000 homes, Con Ed told NBC New York.
Manhole fires are not uncommon after a big snowfall. (In January and February of 2014, the polar-vortex moment, the FDNY responded to 3,200 of them.) As the snow melts, it mixes with the salt laid down on the streets, and the runoff corrodes underground cables, causing sparks. If the plastic insulation on the wires catches fire, it also emits explosive gases. Sometimes the pressure builds up and a 70-pound iron manhole cover blows off in spectacular fashion. Last year, a 71-year-old man was hit in the head as a manhole cover went whirling through Park Slope.