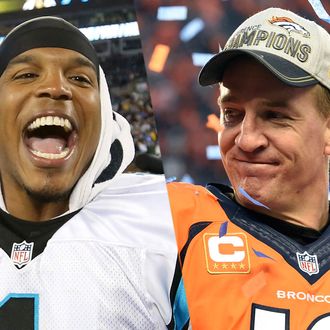 Cam Newton's Panthers will take on Peyton Manning's Broncos in Super Bowl 50.
Photo: Getty Images
The Super Bowl matchup is now set: With their victories yesterday, the Broncos will meet the Panthers in Super Bowl 50 on February 7. Sunday saw two very different kinds of games, with Denver prevailing over New England in a nail-biter that came down to the final minute, while Carolina routed Arizona in a game that was never really in doubt. Here, five takeaways from yesterday's conference title games.
1. The Broncos' defense made things miserable for Tom Brady.
It's no secret that Denver has reached the AFC title game largely on the strength of its top-ranked defense. But the pressure they put on Tom Brady yesterday may well have been the difference in the game. Brady was hit 23 times yesterday — 11 more than his previous season high, according to ESPN — and linebacker Von Miller in particular had a stat line to remember. Via Deadspin, Miller finished with two and a half sacks, an interception, two tackles for a loss, four hits on Brady, and a deflected pass. Things were so ugly that during the game the Denver Police Department posted this on Twitter:
2. Carolina's defense was pretty great, too.
The Broncos defense was charged with shutting down Brady and the Pats, but Carolina had perhaps a tougher task: stopping Carson Palmer and the dangerous Arizona offense, which finished the regular season with a league-best 6,533 total yards. How'd Palmer fare in the NFC title game? He threw four interceptions and lost two fumbles — the most turnovers ever by a single player in a postseason game. (Overall, the Panthers forced seven turnovers on the day.) And as heralded as Denver's defense has been this season, Carolina's isn't far behind: The Panthers ranked second this season, according to ESPN's defensive efficiency metric, which measures a team's per-play contribution to its scoring margin; only the Broncos finished ahead of them.
3. Cam Newton can do it all, playoff edition.
Newton had an MVP-level regular season, and that didn't change on the biggest stage of his pro career to date. He threw for 335 yards and two touchdowns yesterday, and he also ran for two scores, becoming just the fourth quarterback in postseason history to throw and run for multiple touchdowns in a single game. Newton led the Panthers to a 17–1 record and their second Super Bowl appearance in franchise history, and he's having an awful lot of fun doing it.
4. Peyton Manning was good enough for long enough yesterday.
Super Bowl 50 is likely to be hyped as a sort of passing of the torch: Manning, one of the best quarterbacks of his generation but seemingly near the end of his career, going up against Newton, who this year took a major leap and may well now be the face of the NFL. Manning's a future Hall of Famer, but right now Denver just needs him to do enough to complement their awesome defense. Yesterday he did just that, throwing for 176 yards and two touchdowns, both of which came in the first half. And though the Broncos offense sputtered in the second half, managing only a field goal, their defense bent without breaking, preserving the win despite a banged-up secondary.
5. Extra points matter like never before.
The extra-point kick had become so much of a gimme that the NFL this year moved back the line of scrimmage on such kicks to the 15-yard line. Kicks, therefore, would be the equivalent of a 32-yard field goal, rather than the previous distance of 19 yards. As a result, kickers missed 71 PATs this season, for the lowest conversion percentage since 1982. (For comparison, kickers missed just 37 of the 6,153 kicks between 2010 and 2014.) And so yesterday, in the Patriots' biggest game of the year, Stephen Gostkowski's first-quarter miss wound up costing them. The Pats found themselves down by eight instead of seven in the fourth quarter and, after scoring a touchdown in the final minute, needed to go for two to tie, rather than one. They couldn't convert, and the Broncos won the game. Gostkowski had been especially automatic, too, nailing a record 523-straight PATs. He was also one of just five placekickers to make it through the regular season without missing a point after. "I never would have thought missing a kick in the first quarter would be the difference in the game, but that's why you've gotta be good all the time," said Gostkowski, adding, "I feel like I lost the game for the team."