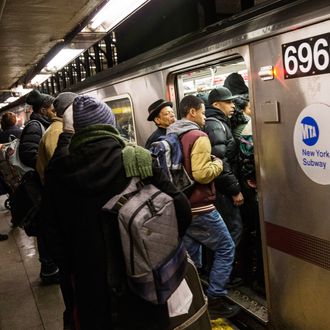 The NYPD will increase patrols.
Photo: Andrew Burton/Getty Images
A 27-year-old man was slashed in the face early on Sunday morning after arguing with a woman he didn't know in a Harlem subway station. The New York Post reports that the fight occurred around 3 a.m. on the southbound platform of the number 2 subway at West 110th Street and Lenox Avenue. The woman summoned a man she knew, and he slashed the victim with an unknown weapon. The attacker then bolted with the woman, and the victim was taken to Mount Sinai St. Luke's Hospital. He is in stable condition and police have yet to make any arrests.
The incident marks the sixth slashing or stabbing in the subway system this month, including three that occurred this week. On Monday, a 71-year-old woman was slashed in the face on the D train in Greenwich Village; on Tuesday, a 32-year-old man was cut on the 6 train in Harlem, and a 29-year-old woman was sliced on the hand while riding the 3 train in Brooklyn. There were three such incidents during the same period in 2015.
According to the New York Times, NYPD commissioner Bill Bratton said in a Sunday radio interview that the six slashings were all "isolated incidents," though "New Yorkers have a right to be alarmed or concerned." "Some of it's reflective of the incredibly crowded circumstances of the subway — people jostling each other and getting into disputes," he said. "Some of it is, unfortunately, that we're seeing the street population, some of the emotionally disturbed, that are very much a concern for everybody." The NYPD has reportedly discussed banning career criminals from the subway, which may be illegal, and Bratton said officer patrols will be increased.