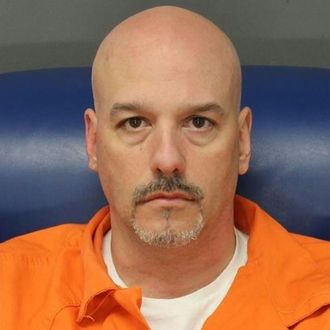 Lomondo is a former NYPD cop.
Photo: Bergen County Sheriff's Office
Arthur Lomando, who stands accused of stabbing his ex-girlfriend to death with a "machete-like" knife in her own driveway back in October, is suing the New York Transit Authority for $50 million. After stabbing Suzanne Bardzell, Lomando reportedly escaped to Manhattan, where prosecutors say he "threw himself under the subway" at Amsterdam and St. Nicholas avenues. But according to a legal brief filed by Lomando's lawyer, that's not how things played out. Lomando didn't jump in front of the train; he was either "jostled" by bystanders in an "overcrowded" station, skidded on "slippery substances," or "was struck by falling debris," any of which might've caused his fall onto the tracks.
Afterward, Lomando was reportedly rushed to Harlem Hospital, where he was "treated for head and leg injuries" and "both feet were amputated to save his life." He was held in an infirmary unit until his transfer to Bergen County jail Tuesday. He's been charged with murder along with various weapons offenses.
In an email to the North Jersey Record, Lomando's lawyer defended his case. "The official explanation by prosecutors is that Arthur Lomando threw himself in front of a train," he wrote. "This is highly prejudicial to his criminal case. It creates the impression that the only explanation for the subway incident is his guilt. This Notice of Claim is the first stage in the civil proceeding which will show what really happened at the subway station." In other words, either Lomando is innocent and had no reason to throw himself in front of a subway train, or he's on the receiving end of some serious karma.