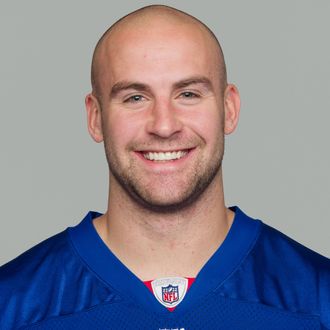 Tyler Sash, who died last year at 27, was found to have advanced CTE.
Photo: NFL/Getty Images
Before former Giants safety Tyler Sash died at 27 of an accidental overdose of pain medication last September, his family noticed unusual and irregular behavior. He had bouts of confusion, memory loss, and minor fits of temper. He'd repeat himself in conversation, repeatedly lose his wallet, and have trouble doing everyday activities like reading email. He was arrested in his Iowa hometown for public intoxication, and he had so much trouble focusing that he couldn't find meaningful employment. After he died, his family donated his brain to be tested for chronic traumatic encephalopathy, or CTE, the degenerative brain disease caused by head trauma found in dozens of former NFL players, and they learned last week that not only did Sash have the disease, but that it had advanced to a stage rarely found in someone so young.
Sash suffered at least five concussions during his career, including one in the NFC Championship Game after the 2011 season, which the Giants won to advance to the Super Bowl. He was cut by the Giants in 2013, but continued to feel the effects of a shoulder injury, for which he took pain medication and that required surgery. His family thought that the powerful medication he was taking was the source of his behavioral problems, and hoped that surgery would put an end to them.
Dr. Ann McKee, chief of neuropathology at the VA Boston Healthcare System and a professor of neurology and pathology at the Boston University School of Medicine who conducted the examination on Sash's brain, said yesterday that the severity of Sash's CTE was similar to that of Junior Seau, the Hall of Fame linebacker who committed suicide in 2012 at the age of 43. CTE can only be diagnosed after a person has died, and McKee said she's only seen one case of an athlete who died at a similar age to Sash who had the disease at such an advanced stage.
Said McKee to the New York Times: "Even though he was only 27, he played 16 years of football, and we're finding over and over that it's the duration of exposure to football that gives you a high risk for C.T.E. Certainly, 16 years is a high exposure."
Sash, who played mostly as a reserve for the Giants before sustaining a concussion during the 2013 preseason and reaching an injury settlement with the team, had talked with family and friends about stories he had heard of former players with mental acuity issues and CTE. "He would make comments periodically," his mother, Barnetta, told the Times. "He would joke, 'I'll be sitting in a nursing home with dementia.'"
A first-team All-Big Ten selection in his final year at Iowa, Sash was drafted in the sixth round by the Giants, playing in 23 regular-season games and four postseason contests.