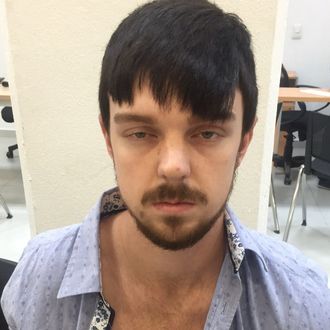 He's baa-ack!
Photo: Jalisco State Attorney General's Office
America's least-favorite teenager Ethan Couch is back in the custody of Tarrant County, Texas, authorities after being deported from Mexico, where he fled with his mother last month after police began investigating whether he had violated his probation.
The 18-year-old Couch arrived at Dallas-Fort Worth International Airport late Thursday morning and was escorted by police to a juvenile detention center in Fort Worth, the Associated Press reports.
Couch escaped jail time for killing four people in a drunk-driving car accident in June 2013, after a psychologist testified that he suffered from "affluenza"— a condition resulting from having too much money and a dysfunctional relationship with his parents — and was unable to take responsibility for his actions. A judge bought his defense and he was instead sentenced to rehab and ten years' probation at his trial in February 2014. The ruling was widely ridiculed, as "affluenza" is not a recognized psychological condition.
Both Couch and his mother Tonya went missing in December after a video surfaced online that purported to show him playing beer pong. (Under the terms of his probation, he is not allowed to drink alcohol.) The police issued the juvenile equivalent of an arrest warrant for Couch after he failed to check in with his probation officer.
The two fugitives were apprehended later that month in the Mexican resort town of Puerto Vallarta after he used his cell phone to order Domino's pizza. Tonya Couch was extradited to Texas earlier this month to face a charge of hindering the apprehension of a felon, but her son initially contested his deportation before giving up this week.
Couch is due in court on Friday, when a judge may decide to send him to an adult jail, which Tarrant County sheriff Dee Anderson told the AP he would support.
A hearing on February 19 will determine whether the case against Couch is transferred to the adult justice system, in which case he could be sent to jail for 120 days and made to serve the rest of his probation as an adult sentence, meaning that if he violated it, he could go to prison for up to ten years for each of the four people he killed.
In court last week, Couch's lawyer Scott Brown advanced a theory that Tonya Couch may have taken her son to Mexico against his will; so far, there seems to be no evidence to support that claim, but if he can prove it, his mother could face a kidnapping charge.