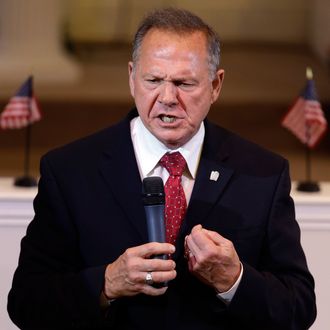 Photo: Butch Dill/AP/Corbis
Kim Davis was just the beginning. In a move that directly defies the Supreme Court's decision last June, Alabama Supreme Court Chief Justice Roy Moore issued a court order Wednesday that bans lower judges in Alabama from issuing same-sex marriage licenses. His rationale is that it's unclear whether the Supreme Court's ruling in Obergefell v. Hodges, which legalized same-sex marriage across the country, applies in states other than those directly mentioned in the case (Michigan, Ohio, Kentucky, and Tennessee). 
"Until further decision by the Alabama Supreme Court, the existing orders of the Alabama Supreme Court that Alabama probate judges have a ministerial duty not to issue any marriage license contrary to the Alabama Sanctity of Marriage Amendment or the Alabama Marriage Protection Act remain in full force and effect," Moore wrote, in willful abuse of the English language.
What he means is that the Alabama Sanctity of Marriage Amendment and the Alabama Marriage Protection Act, both laws that make same-sex marriage unconstitutional, are in direct conflict with the SCOTUS ruling, resulting in "confusion and uncertainty" for probate judges, Reuters reports.
Moore has a long and sordid history of putting his personal beliefs before the law. In the 1990s he was ordered to cease Christian prayer in his courtroom and to remove plaques printed with the Ten Commandments — although he ignored both orders at first, he eventually complied. He's also the guy who designed and built an enormous granite monument to the Ten Commandments outside the Alabama State Judicial Building. He was ordered to remove the statue, refused, and was kicked out of office.
And of course, he's a notorious opponent of marriage equality; in March of last year he issued a similar order after a federal judge ruled that Alabama's ban on same-sex marriage was unconstitutional. His decision today indicates he'll take the fight against marriage equality to its extreme. The Supreme Court will most likely win this match eventually (it's the Supreme Court, after all), but not before Moore instigates an ugly wrestling match between state and federal authorities.