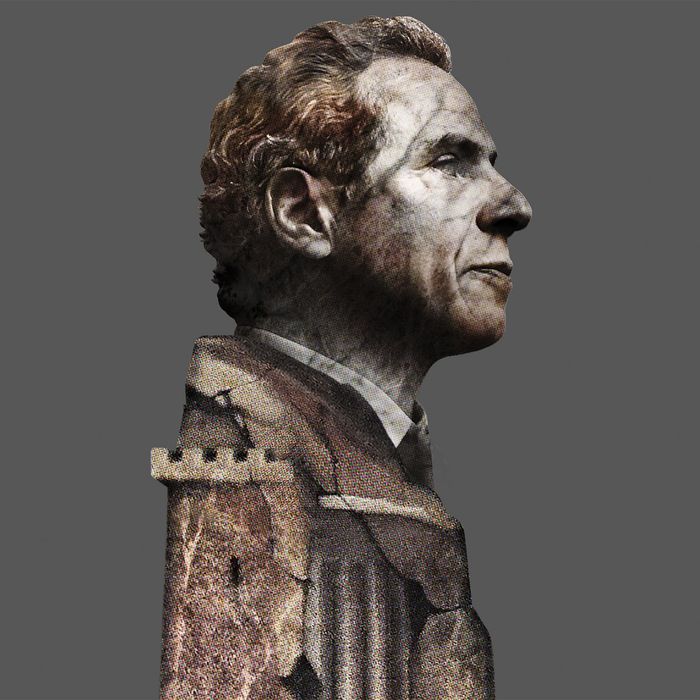 Andrew Cuomo's grandiose transportation plans may not be big enough.
Illustration: Joe Darrow/2015 Getty Images
Governor Andrew Cuomo has pledged to stay in office "as long as the people will have me," but even that may not be long enough to cut the ribbons on all the megagoodies he's promised. Cuomo is hoping to go down as one of New York's pharaonic builders, on a par with Robert Moses and Nelson Rockefeller. Already he has spanned the Hudson with a new $4 billion Tappan Zee Bridge. Now all he needs is another $100 billion to tunnel beneath the same river, erect a new Penn Station, inflate the Javits Center, run an AirTrain to a new La Guardia Airport, add a third track to the Long Island Rail Road, sprinkle the city with new and refurbished subway stations, deliver Wi-Fi to MTA passengers, and — just to drive the accountants a little crazier — lower tolls on the Thruway. It's a dizzying, possibly delusional list that pits good ideas against other good ideas yet envisions nothing fundamentally new. Where the funding will come from, whose arms need to be twisted, what the trade-offs are, and how the components interact — these questions fade into hazy optimism.
Cuomo's overstuffed shopping cart represents a beneficent form of megalomania: the conviction that he can finally deliver on all this stuff we've needed for a very long time. Penn Station today is an infernal swamp where a transportation facility should be, forcing travelers to enter the city with their heads hung low. With the two Hudson rail tunnels threatening to give up the ghost on a moment's notice, the Gateway project, which would add two more and still barely keep up with growth in ridership, hardly qualifies as a frill. Arriving in New York by air is a permanently depressing ordeal. And if the MTA could bank cursing, it would be the world's wealthiest transit system. It's a measure of how badly the state's physical musculature has deteriorated that Cuomo is eager to mortgage both his ­budget and his presidential dreams in order to fix things we already have. The plan's greatest virtue is that it tackles ­multiple modes of transportation, promising to ease commutes, postpone disaster, and protect the city's sagging machinery from definitive collapse.
Yet the governor actually falls short in the grandiosity department. Cuomo boasts about his one bridge; Moses built 13. He has vowed to "create and preserve" 100,000 homes and apartments statewide; Moses built 148,000 from scratch in New York City alone. Moses, who ignored collateral damage and gets regularly cast as a city-sacking Hun, provided playgrounds for children who had never seen one, highways for drivers who would otherwise have to chug through town, and parks for New Yorkers whose only other access to nature was a weedy lot.
Cuomo has presented his vision as a stirring futuristic fantasy, but it's really focused on the past. His plans, he boasted, are enough to "make Governor Rockefeller jealous." Well, maybe. In the 1960s, Rockefeller built roads and rebuilt Albany, grabbed toll money and made public transit the state's business. (He also killed one of Moses's pet ­projects, a bridge across the Long Island Sound — an idea that the current governor recently refloated, this time in tunnel form.) Cuomo can hope only to spiff things back up.
That's partly because some of the sexiest infrastructure projects are happening without him, while others are far beyond his powers to bestow. Developers are punching new holes in the skyline, Uber has provided a way to hail a car before stepping outside, the city's transportation department has built a network of bike lanes, and private ferries are plying the rivers. Cuomo can't deliver a 90-minute ­Japanese-style bullet-train trip to Washington, a one-seat glide to JFK without having to schlep luggage up and down stairs, or an integrated regional rail network that meshes seamlessly with the subway. What he does have is a massive, once-in-a-generation handyman special. We who live in it can only utter the old prayer for a plumber: May he show up and do what he promised.
Cuomo's admirable compulsion to get things built doesn't mean they should get built badly. Some of his announcements provoke anxiety as well as hope. A set of bloodless renderings envisions another Penn Station we'll start to regret almost as soon as it's built. The drawings don't constitute an actual design, but they do suggest a bureaucracy's limited desires: an efficient passenger processor, married to a shopping mall. That's not nearly enough.
I worry that the venom over the cost and glacial progress of Santiago Calatrava's World Trade Center Transportation Hub has poisoned the idea of train-station glory. There are many ways to blow this one: leaving Madison Square Garden untouched, or treating Penn Station as an isolated project, unconnected to the streets around it. It's become almost rote to wish for a new Grand Central Terminal, but that must mean more than high ceilings and big windows. One of Grand Central's grandeurs is that cars flow around, trains beneath, and pedestrians through it, knitting together all sides. Penn Station might one day do the same. Hudson Yards, Hell's Kitchen, Chelsea, and Midtown West all converge on what could be a great landmark. Underground passengers become sidewalk-level pedestrians, and the blocks from Seventh Avenue to the river must be conceived for them. Over the next decade, tens of thousands will live, work, and shop in an area that until recently consisted of an open rail yard and block after block of nothing much. Developers aren't waiting. They're transforming the West 30s so rapidly that the city and state are panting behind them.
Dishearteningly, Cuomo's big move in the area is to pack another 1.2 million square feet onto the Javits Center, which already bloats across four blocks and, in its 30-year history, has done nothing to enliven the streets around it. He may be right that attracting even bigger flocks of toymakers and kitchen suppliers would be a boon to the city, but he has yet to make the case, and some analysts contend that convention centers are really just massive money pits. It's hard to have much confidence in the governor's wisdom on this topic when his last idea was to drop a 3.8 million–square–foot facility out by the Aqueduct racetrack in Queens and hope that urban charms would follow. That idea mercifully died. Now the Javits Center expansion project makes the opposite mistake: stifling a neighborhood that is desperately trying to evolve on its own.
The governor seems similarly bedazzled when it comes to his $8.3 billion contribution to help refresh the subway system. In announcing the program, Cuomo seemed excited by the prospect of a digital travel experience: You'll brandish your smartphone at a turnstile instead of swiping a card; a countdown clock will sucker you into believing there's a train coming in two minutes; and Facebook will never be more than a station away. If you've ridden the subway at rush hour or on weekends lately, you know these are preposterous priorities. A Wi-Fi-equipped wait is nice, but what good is platform internet access when you're indefinitely stuck in a tunnel with a thousand other unfortunates, standing nose to armpit?
The digital future he's trumpeting is just a veneer for the less glamorous job of replacing ancient machinery and expanding the network. Cuomo's promising 1,400 new subway cars, 3,100 new buses, four new Metro-North stations in the Bronx, and the next phase of — yes, here it comes! — the Second Avenue Subway. And it's easy to understand why he downplays the most urgent work. East Siders who have been suffering through the birth pangs of the Second Avenue Subway (Part I), and Williamsburg residents who have just discovered they may face an L-less few years, know that ministering to the subway's physical health involves a lot of invasive surgery. Cuomo's not offering painless treatments, but he is hoping to reduce the misery. His plan would scrap the endless puttering as trains switch tracks and skip stops on impenetrable schedules. Instead, stations would take turns shutting down completely while workers "get in, get done, and get out." That may be the mantra of a SEAL-team leader, but they are not the words of a visionary.         
*This article appears in the January 25, 2016 issue of New York Magazine.