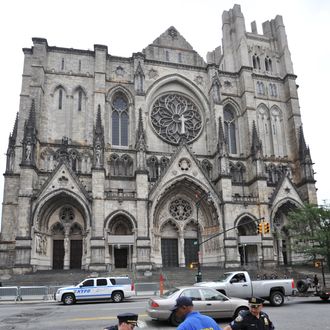 New York's Cathedral Church of St. John the Divine.
Photo: Stan Honda/AFP/Getty Images
American Episcopalians will not be allowed to participate in the internal decision-making of the international Anglican church for the next three years, as a punishment for their vote last summer to allow religious weddings for same-sex couples.
CNN reports that archbishops from the Anglican Communion's 38 provinces met Thursday in Canterbury, England, where they issued a statement censuring the Episcopal Church, its American branch, for violating its mother church's doctrine, which "upholds marriage as between a man and a woman in faithful, lifelong union."
The 1.8 million Episcopalians in the U.S. make up a fraction of the Anglican Communion's 85 million members worldwide, many of whom adhere to a much more conservative line on biblical teachings about sex and sexuality. The Episcopal Church, long considered the religion of the American establishment, has been ahead of other churches on LGBT issues for some time, electing its first openly gay bishop in 2003.