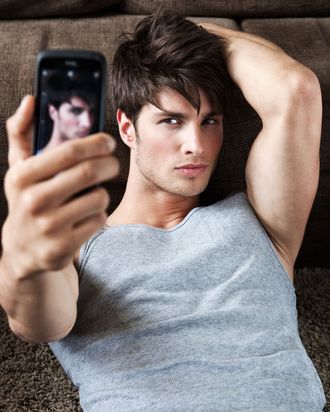 A photo illustration of what we imagine criminals taking selfies look like.
Photo: Robert Recker/Corbis
Shortly after an Ohio man who begged the police to use his great selfie instead of his awful mug shot when they were trying to track him down was arrested in Florida, a Baylor University freshman was arrested in Texas for climbing a courthouse so he could take a selfie with the mutant Lady Justice statue on top of it. (According to the Waco Tribune, a storm in 2014 "ripped the left arm from the goddess of justice and sent the scales of justice she was holding flying into a nearby magnolia tree.")
The county sheriff told the local newspaper, "He said he wanted to take a picture with Lady Justice. Looks like he did get a little dose of justice himself. He should have been on a date at a movie or studying instead of on top of the courthouse." The student told KWTX that he came up with the idea after drinking a strawberry milk shake, and that he "was feeling really stupid last night." The police confirmed he was the culprit after finding several incriminating selfies on his phone. 
It is unclear why the student ever thought it would be a good idea to take a photo with the nearly 115-year-old statue, as the photo below suggests that she has probably forgotten what justice tastes like and seeks to punish all. 
Remarkably, these two selfie crimes are not alone. This year has started off with a healthy spree of selfie-related arrests. In a few of the cases, the criminal would have gotten away with it, too, if it wasn't for those meddling selfies. 
Shortly after the New Year began, a man was arrested in Northern California after allegedly taking a Snapchat selfie with someone he had just robbed. Just yesterday, a man was arrested in Wrentham, Massachusetts, after stealing an iPad and taking selfies on it. It is not clear whether he was arrested for stealing the iPad or taking photos with an iPad. 
One expert calling into a local Massachusetts TV station using FaceTime said, "Dumb criminals never cease to amaze me and with technology the way it is, connected to the cloud, it's more and more plausible that criminals will self incriminate themselves."