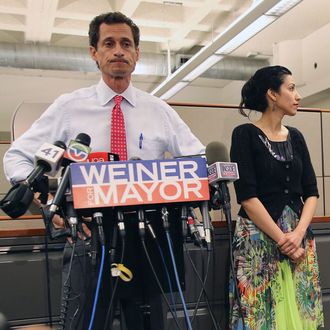 "I have betrayed my family and only hope they can find it in their hearts to admit that this will be a really entertaining movie."
Photo: John Moore/Getty Images
Imagine you're an ex-congressperson trying to revive your career in the wake of a sexting scandal — and you're also, secretly, still addicted to extramarital sexting. Would you grant a documentary camera crew full access to you and your wife as you campaigned for New York mayor?
Of course you would. Because you are Anthony Weiner.
In May 2013, Weiner invited filmmakers to document (what he hoped would be) his rise from the ashes of public humiliation to the mayoralty of America's largest city. Instead, they ended up documenting the would-be mayor "racing through the back halls of a McDonald's to avoid a woman with whom he traded inappropriate texts, whom his campaign code-named 'Pineapple,'" the New York Times reports.
The Times got an exclusive first look at Weiner, which premieres at Sundance this Sunday. The paper writes that the film is as much about Weiner's wife, longtime Clinton aide Huma Abedin, as it is about her unfortunately named husband. The documentary reportedly depicts Abedin trying to balance her marital and political ambitions at a time when both are thrown into crisis:
"Ms. Abedin turns to Mrs. Clinton's longtime spokesman, Philippe I. Reines, for guidance, preferring his counsel to Mr. Weiner's terse advice toward the end of his campaign that she "act like a normal campaign candidate's wife" and say, "I think Anthony is doing an amazing job." Ms. Abedin is also shown heeding the suggestion of Mr. Reines to not appear in public with Mr. Weiner as he casts his ballot."
Abedin has been a perennial target for conservatives, first for her wholly fictional relationship to the Muslim Brotherhood, then for her actual relationship to Hillary Clinton. Republican lawmakers have questioned the legality of Abedin accepting outside income while working for Clinton at the State Department.
Weiner will likely join the Michael Bay Benghazi epic 13 Hours on the Clinton campaign's top 10 least-favorite films of 2016.