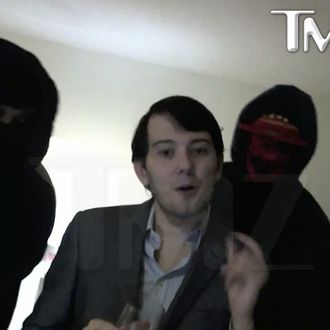 Everything comes in threes. Following this week's Kanye–Wiz Khalifa and B.o.B.–Neil deGrasse Tyson rap beefs, Martin Shkreli has launched one of his own against Wu-Tang Clan member Ghostface Killah. Last week, Ghostface referred to Shkeli — who bought the only copy of the Wu-Tang Clan's newest album for $2 million — as a "shithead."
In a bizarre new video, Shkreli has decided to pick a fight with the rapper. "You're an old man that's lost his relevance, and you're trying to reclaim the spotlight from my spotlight," says the embattled pharmaceutical executive, who is keeping his name in the news by recording a callout video on an askew webcam surrounded by three men in Halloween masks. Shkreli then threatens to wipe Ghostface's contributions off the album or destroy the only copy entirely.
Shrkeli, who is a bad person and no longer amusing, is demanding a written apology for the slight. He will almost definitely not get one.