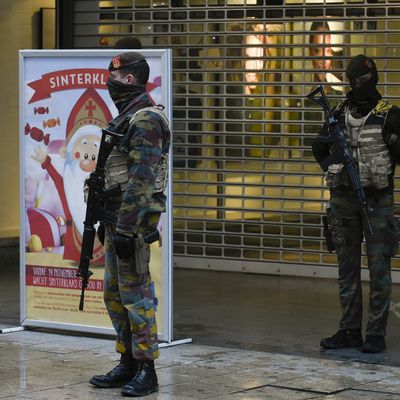 Soldiers patrol the Rue Neuve pedestrian shopping street in Brussels on November 21, 2015.
Photo: John Thys/AFP/Getty Images
On Friday, federal prosecutors in Belgium revealed that they'd found an apartment that appears to have been used to help plan the Paris attacks, which killed 130 people. The space in Brussels was filled with traces of explosives and suicide belts — plus a fingerprint from Salah Abdeslam, one of the attackers who still hasn't been found.
Reuters reports that "According to De Standaard, investigators believe the fingerprint indicates Abdeslam used the flat as a safe house after the attacks, given signs that the apartment had been partially cleaned up, although they do not know how long he stayed there."
The apartment was rented under a fake name. Many of the attackers came from Belgium, and this new evidence shows that it is likely that parts of the attack were planned there. Many other people have been arrested in Belgium since the attacks — including two people who picked Abdeslam up and drove him away from France after he escaped.
Meanwhile, in Syria, a hotbed of ISIS activity visited by at least one person affiliated with the Paris attacks, an ISIS militant executed his mother after she allegedly tried to get him to leave the Islamic State, according to several rights groups. The mother — who lived in Raqqa, basicaly ISIS's capital — reportedly told her son that the United States and its allies would "wipe out" the extremist group, and that they should escape before that happened. According to the BBC, she was shot in front of her workplace while hundreds of people watched.  
In the town of Madaya, 300 miles away, tens of thousands of people are starving. Madaya is held by rebels — and the Syrian government has not been letting people leave or go in. More than 20 people have died of starvation since last month. "Madaya is now effectively an open air prison for an estimated 20,000 people, including infants, children and elderly," Doctors Without Borders said. "There is no way in or out, leaving the people to die."
"People are dying in slow motion," one social worker told The Guardian. "We had some flowers growing in pots at home. Yesterday, we picked the petals and ate them, but they were bitter, awful. I've personally seen people slaughtering cats to eat them, and even the trees have been stripped of leaves now." Another resident told the BBC, "People here have started eating earth because there's nothing left to eat. Grass and leaves have died because of the mounting snow."
Bashar al Assad's government finally said it would allow aid groups to enter the town, and the U.N. said on Thursday it hoped to get there within 72 hours. Given that the town is still surrounded by government forces, they will have to approach very carefully.
In the U.S., two refugees — one in Sacramento, the other in Houston — were arrested on terrorism charges. Officials did not say whether the cases were connected; both will appear in court in California and Texas on Friday. They are both Palestinians who came to the U.S. several years ago from Iraq. There is no sign that either was planning an attack. 
Twenty-three-year-old Aws Mohammed Younis Al-Jayab allegedly bragged online about visiting Syria to fight with terrorist organizations — he told U.S. officials he was visiting Turkey to see his grandmother. Twenty-four-year-old Omar Faraj Saeed Al Hardan has been accused of attempting "to provide material support and resources, including training, expert advice and assistance, and personnel – specifically himself — to a known foreign terrorist organization." He has also been accused of lying during interviews when he was coming to the U.S.; he allegedly has been trained on how to use a machine gun, something he didn't disclose. The DOJ didn't provide any specific reasons for why it was accusing Al Hardan of supporting terrorists. 
Senator Ted Cruz quickly jumped on the news as an example of why the U.S.'s current refugee policy is wrong — a belief widely shared among most Republican presidential candidates. "These arrests underscore the need," he told reporters, "for President Obama to suspend this indefensible policy putting political correctness ahead of national security."
Texas lieutenant governor Dan Patrick added, "This is exactly what we have repeatedly told the Obama administration could happen and why we do not want refugees coming to Texas."
And then, over at Guantánamo, the number of people being detained has dropped to 104. According to The Guardian, 17 more detainees are expected to be released in Janury. The Obama administration is obviously still trying to see if it can close the facility in Cuba in the next year — a step that would be difficult given the current pace of exits and complications with Congress.
Guantánamo has been open for 14 years.