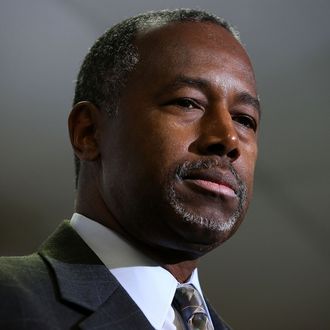 Photo: Justin Sullivan/Getty Images
GOP presidential candidate Ben Carson had a rough end to 2015. He saw his front-runner status slip away. His campaign underwent a big shake-up, as key staffers — including his campaign manager — stepped down. What do you do after your candidacy has fallen apart? If you are Ben Carson, you visit Staten Island.
"I think it's a pretty cool place," Carson told the Staten Island Advance before his town-hall meeting at the Hilton Garden Inn. Even though the event came together on short notice — Carson only announced his plan to stop by Thursday — about 400 people showed up. "Standing room only," says Louis Savarese, a Richmond County GOP volunteer who helped organize the event. "People got to hear the man."
Carson give his origin-story stump speech and talked about his positions on everything from ISIS to the economy that New York's primary voters might consider by the time of the state's April 19 primary. 
A small group of protesters also showed up, according to NY1, including one who challenged Carson's past statement that a Muslim couldn't be president. Carson calmly clarified his position to the questioner, saying he would not support having a Muslim who followed sharia law as president. "Sharia is not compatible," he said, adding, "I know a lot of Muslims who have accepted America, have accepted American ways, and are willing to abide by our Constitution." The crowd erupted into applause, and the Daily Beast caught one lady shouting, "Take that Muhammed."
Carson didn't talk much about his recent campaign turmoil with the crowd, but the Advance did ask him about Armstrong Williams's outsize role in a campaign he's not technically part of. "I think his influence has been maybe exaggerated significantly, to some degree," Carson said. "I believe he got more involved because there was a tendency in the campaign not to be very media friendly. It was just putting people off and members of the media felt they couldn't find out what was going on so they went to him. I think that distorted the way things normally should be."