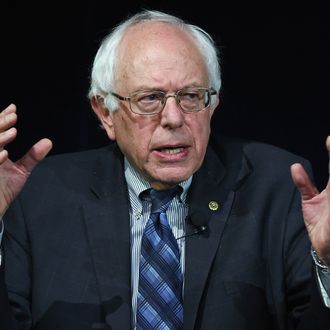 Bernie "Wealth Inequality" Sanders
Photo: Ethan Miller/Getty Images
By now we all know that Bernie Sanders hates big banks. In yet another rousing speech during his visit to New York on Tuesday, he again promised to bring doom to Wall Street if elected: "Here is a New Year's resolution that I will keep if elected president, and that is, if Wall Street does not end its greed, we will end it for them." To do this, Sanders wants to "structurally reform the Federal Reserve to make it a more democratic institution responsive to the needs of ordinary Americans." He wants the Fed to act with the same urgency to fight unemployment and low wages as it did on the eve of Wall Street's collapse.
Listening to his familiar tirade, one question arises: Does Bernie Sanders ever talk about anything else? The answer, according to a profile of the senator in Bloomberg Businessweek, is no.
When asked point-blank by Bloomberg Businessweek's Joel Stein if he has other interests, Sanders replied, "History. How communities thrive. How they flourish. How people don't get left behind. How social change takes place." "In other words," says Stein, "the history of wealth inequality." Two people who consider Sanders a close friend, Senator Jim Inhofe and Huck Gutman, his former chief of staff, both list wealth inequality as Sanders's only interest. 
>
"With everyone else in the Senate, they'll discuss the Oklahoma-Oklahoma State game," Inhofe says. "But not Bernie. I don't think he has any other interests. I really don't. I've never heard him talk about anything besides something legislative he's all wrapped up in. It's very unusual." Inhofe pauses. "I, to this day, don't even know if he has grandkids. Or even a wife." The two have never gone to dinner or lunch. "I don't know what we'd talk about," Inhofe says, before remembering that, of course, Sanders would talk about wealth inequality. "You can't have a whole dinner talking about that."
Gutman says Sanders used to have two interests: playing basketball and wealth inequality. Then he stopped playing basketball. "Most of us think there are a lot of things in life that are interesting and worth working on," he says. "But Bernie says, 'No, no, no. The struggle for equality is what my life is about.' He's not a liberal. He's not a good-doer. He's consumed by what he thinks is the struggle for equality."