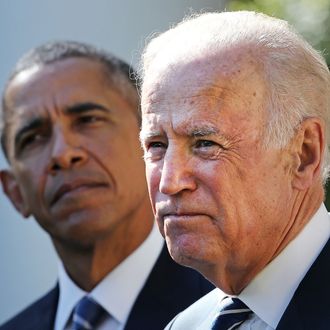 Still not running, still sad about it.
Photo: Win McNamee/Getty Images
Joe Biden is looking back at 2015, a year in which he struggled to decide whether he should run for the most powerful job in the world. The vice-president is still conflicted, he told NBC Connecticut on Wednesday, over his final choice. "I regret it every day," he said. "But it was the right decision for my family and me."
The vice-president has yet to endorse a candidate but said that he would remain involved in the campaign. He is hopeful for the Democratic Party's chances in 2016. "We've got two good candidates," he said, presumably referring to Bernie Sanders and Hillary Clinton and forgetting Maryland governor Martin O'Malley, who is, in case others have also forgotten, also running.
Biden spent the summer and most of the fall keeping his options open and semi-publicly agonizing over whether to start one more run. A pro-Biden super-pac, Draft Biden, ran an ad (entitled "My Redemption") encouraging him to jump in. But on October 21, Joe took to the Rose Garden with his wife and the president to say that neither he nor his family could emotionally handle a presidential campaign as they mourn for Biden's oldest son, Beau, who died of brain cancer in May.
In the same interview, Biden noted that the GOP candidates are telling him that they're weary of the carnival atmosphere in their race. "I have spoken to three of the presidential potential nominees on the Republican side who tell me, Joe, it's crazy — this is absolutely crazy," he said. "You know, the kinds of things that Ted Cruz and Donald Trump are saying are so inconsistent." He went on to applaud the Democrats for forgoing the normal cycle of attack ads. "There's a real, robust debate between Hillary and Bernie," Biden said. "As there would have been if I had gotten in."